Deck Railing Designs Explained
The deck railing designs you choose can enhance or detract from your house.
Before you start hammering things together, think of the various looks you can create just in the way you construct your railing.
Are you building entirely with wood?
Will you add in railing components like metal balusters or rail connectors?
Or are using a system of aluminum, vinyl or composite?
How about glass railing panels?
The character of your deck railings design will come from the variations that you can find among these four components.
Believe it or not, there are many, many design permutations you can devise.
Consider each railing component and how it can be used when you design your deck. The components of deck railing designs are posts, top and bottom rails, and vertical or horizontal balusters, sometimes called pickets.
Different Deck Railing Design Ideas
Let's consider the visual impact of different materials and design or building techniques.
Big - Bold - Busy
Wood posts and balusters are simple and common. Here the posts are attached on the outside of the rim joist.
The railing sections show off good carpentry and artistry.
But overall, the posts and the railing compete visually. Alongside the cedar skirt under the deck, the entire feeling is one very busy looking appearance.
Light - Airy - Subtle
Look at the more "airy" open appearance using smaller aluminum pickets that do not obstruct your view.
Different look. Different sense. You decide what is best for your view, budget and taste.
Do not under estimate the size of railing elements like balusters. Some might say this railing "looks" flimsy.
If you want a more robust appearance, perhaps, but it is very strong.
Plain - Straight - Clean
See the effect of using an all wood structure with a continuous flat 2x6 top cap rail and 4x4 posts and 2x2 wood balusters.
This is a more traditional style. Less expensive materials. Simple construction. But nice and clean all the same.
Just needs some regular maintenance to keep a wood railing in good shape.
Two Tones - Gets The Second Look
What about working with color? Sounds simple but the effect can be very pleasing.
Here you see a very simple wood construction but a two tone coloring where the top rail and posts are darker shade than the rest of the railing.
Very subtle yet clever.
The darker tone for posts and top rail pulls your eye to the exterior lines rather than the repetitive and imposing size of the railing section elements.
Play with color in your designs. It's an inexpensive way to really emphasize and contrast your deck.
Other Stylistic Tricks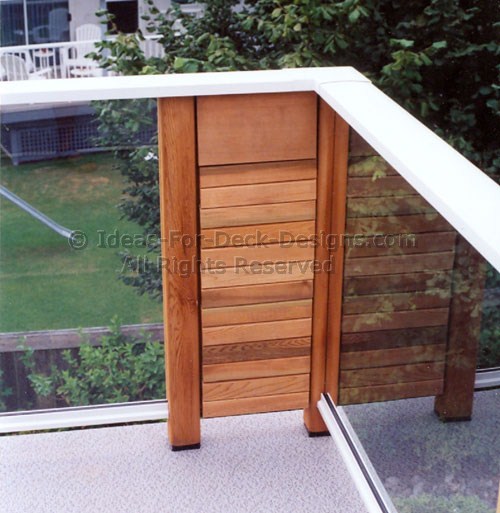 Here are some alternate concepts of railing designs to keep in mind.
Mix And Match For Maximum Effect
Contemporary styles come from using traditional and new materials.
Check this aluminum cap rail with glass panels. You could even add low voltage indirect lighting inside the panel.
What an effect!
Definitely not your father's railing design.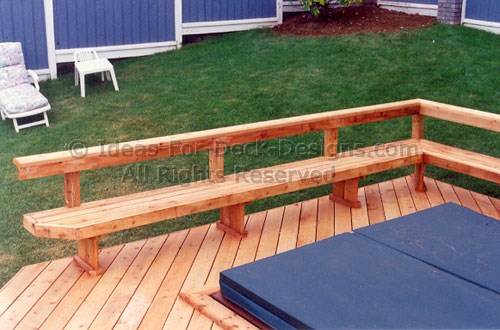 Try Designing Your Railing As A Built In Bench
On low level decks it may be appropriate to incorporate a bench seat with backrest that functions are a guardrail.
Not suitable above heights were true rails are required. But the design works.
Designs like this serve to subliminally define special purpose areas on any deck. In this case its a spa area with a hot tub.
The surrounding bench makes the large area more cozy and intimate. Just what you want if you are desigining a hot tub into your deck.
Many Possible Deck Railing Designs Await
As you can see, if you are building your own railing, there are many unique combinations.
These are just examples of general themes that you can impart when you are building your deck or railing. For more specific building and construction tips there are some great articles below to check out.
Some Other Great Reading...