Exotic Decking Material & Specialized Deck Building Products
For those looking for exotic decking material and specialized building products that will make your deck unique and as durable and maintenance free as possible I would like to show you what this specialized building products company has to offer.

Otter Creek Forest Products has caught my eye for their unique product offerings from exotic decking materials to deck railing systems that are stylish and truly maintenance free.
Exotic Hardwoods - Environmentally Friendly
How much do you know about Cumaru, Ipe, Siberian Larch, or Tamarck?
Did you know that some species are so dense they actually have a Class A fire rating? That's the same as steel and concrete!
And the resins in these species are so inhospitable for insects and bacteria that some decking can last 50 years - left to age naturally.

Because of its incredible strength exotic decking material can span longer distances with thinner stock. But you must use carbide tipped drill bits and saw blades or you will have tought time cutting and fastening screws to it.
And the species at Otter Creek are sustainably harvested which is good to know. Pressure treated timber with its high chemical soaking may last a long time but not as long as exotic hardwoods. The hardwoods are also less prone to splitting, warping and twisting unlike pressure treated.
Other Deck Building Products - Railings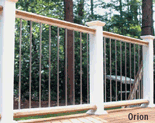 They also offer a very durable stainless steel railing system that is perfect for exterior work.
Made of polished stainless steel, these railing systems will last practically forever. Where there is salt in the air or constant rain, corrosion will not be a problem.
Contemporary styles are available as well such as this all stainless railing. And this has low voltage lighting to enhance the look at night.
There are some patented aspects to the details of this product. But it is consistent with the high end unique building products in their line.
Building a deck is a big undertaking and something you really want to last. These exotic decking materials durable railing products are excellent options as you plan what building products you will use.