How an ordinary diy'er with no prior experience easily installed over 200 balusters in a weekend - and you can too!
Most, first time, DIY'ers would not tackle a job as big as this one.  But Brian, a new homeowner, was enthusiastic and intrigued by the unique sideways installation technique of the Snap'n Lock ™ baluster system. 
If you have ever tried to install hollow metal balusters using bored holes in 2x4s or plastic plug systems, you will really appreciate this story.  You already know that plug style systems are extremely finicky and cannot be done alone.  You not only need an extra set of hands, but you also need a ton of patience!  
about the builder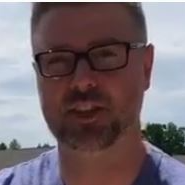 Brian is from Michigan, and his expansive backyard deck needed over 80 feet of railing.  He did some research and the ease of installing each baluster sideways was the deciding factor that led Brain to go with the Snap'n Lock ™ baluster kits from DecksGo manufactured by Titan Building Products.
time is precious

Brain is an ordinary guy, probably just like you, with limited free time to get things done around the house.  The least amount of time it takes him to complete a good job the better.