Composite Decking Forum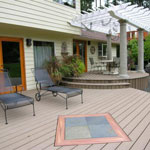 Our composite decking forum covers all you need to know about materials, decking, and more!
The content will grow and grow as you participate. Find out what's going on here or share your thoughts.

Have a question about composite decking?
If you have a question about composite decking, you've come to the right place! If you're looking for other visitors submissions, click here or scroll past the submission form.

This is where we try to encourage a community of people who can answer your questions or point you in the right direction.
Other Visitor's Questions
Click below to see contributions from other visitors to this page...