Get ready to smile - a lot - when you use

Snap'n Lock™balusters

. why?

because Sideways

installation

is so much

faster & Easier

than plug style baluster systems.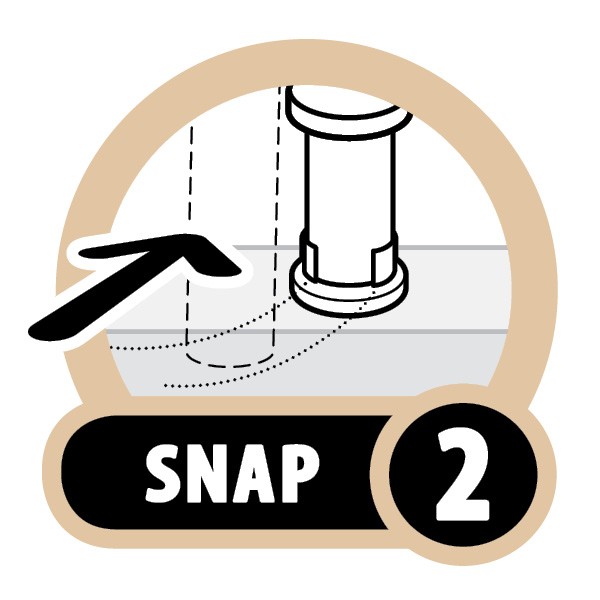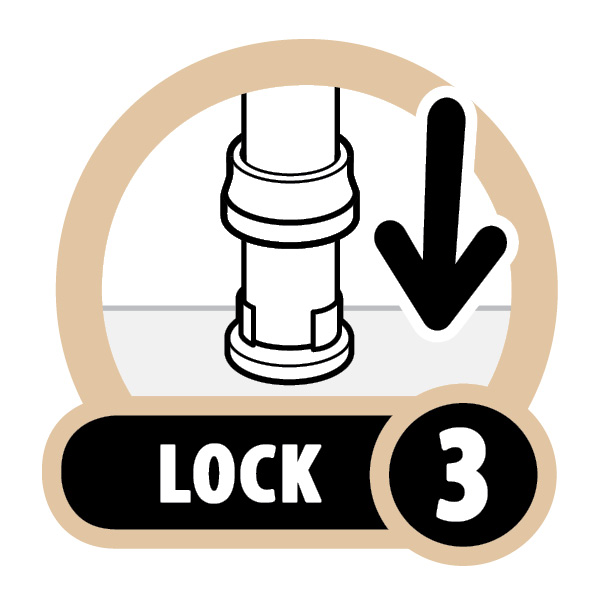 Snap'n Lock™ Balusters are going to change the way DIYers, and Builders alike install aluminum balusters systems and here is why.
plug style baluster systems are
a hassle to use
If you have ever used a vertical plug style baluster system to build deck railing, you know the hassle that it is.  Lining up fifteen loose fitting, dangling balusters so that they perfectly and simultaneously fit into the plugs from the upper 2x4 rail can be a nightmare.
But with the Snap'n Lock™ Balusters sideways installation method, even a beginner with minimal skill can install deck railing balusters all by themselves, faster and easier for a truly luxurious looking railing.



If you are
planning on building

a deck railing and this appeals to you then

read on...
have you ever seen these kinds of baluster connectors?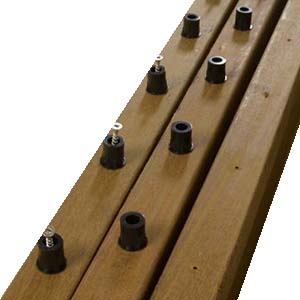 Traditional baluster connectors are plugs that screw on to the 2x4 and the hollow baluster is designed to slip over.
There are variations of this concept and some have concentric horizontal ribbing to grip the baluster.
You push the baluster down on to the plug and it fits inside the tube.
or have you ever used pre-drilled 2x4s that you fit balusters into?

You can bore the holes yourself or buy 2x4s pre-drilled sometimes.
In either case, it is relatively easy to insert balusters into the connectors or bored holes of a lower 2x4 rail.
However, it becomes much more challenging and frustrating to simultaneously align a dozen or more balusters into plugs or holes on the underside of an upper 2x4.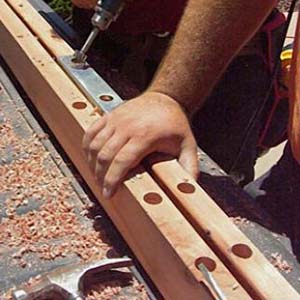 ...then
you know the hassle

they are to install



You really need to lay everything out on a bench or flat workspace to be able to align all the balusters with all the holes.  And even then, it requires a lot of patience and several tries to get them all in.

If you a not professional, you will need a helper. 
Otherwise by the time you install the first two or three balusters, they release as you try to install the fifth or sixth baluster.  It is very finicky and frustrating.
thankfully

...

those days are over.  now anyone can install balusters twice as fast using 

SNAP'N LOCK™ balusters.



HERE IS HOW IT WORKS
Using Snap'n Lock™ Balusters is as simple as... Screw, Snap, and Lock.

Simply screw the base to the 2x4.  Snap in the baluster.  Slide down and lock the collar.  That is, it.
But not only is it fast to install, but it is also fast and easy to uninstall. 
And this is a huge benefit when it comes time for maintenance. Here is what we mean.
Fast And easy maintenance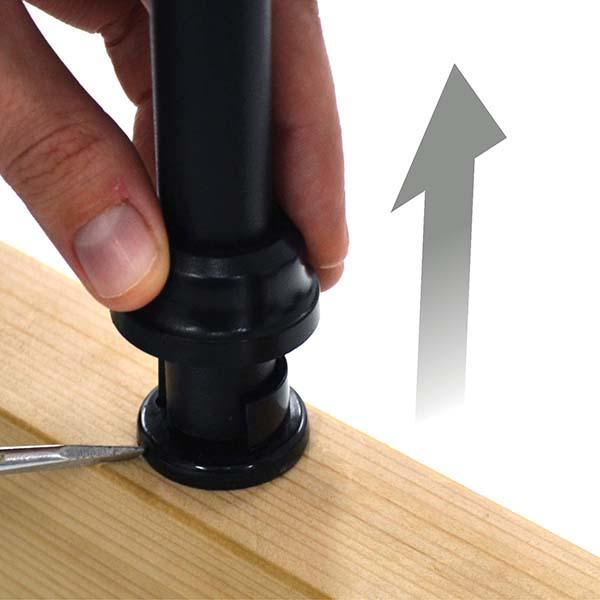 pop collar up

The collar releases using a slot screw driver.
stain or paint

Stain or paint around the base quickly and easily.  No need to use tape or worry about getting paint or stain on your wood rail.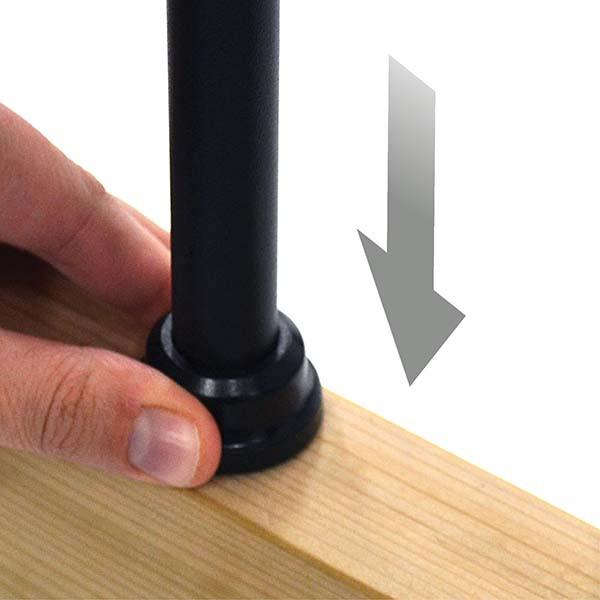 Lock collar down

Just slide and lock the collar down when you are done.


Snap'n Lock™ Balusters are perfect for retrofitting old wood railings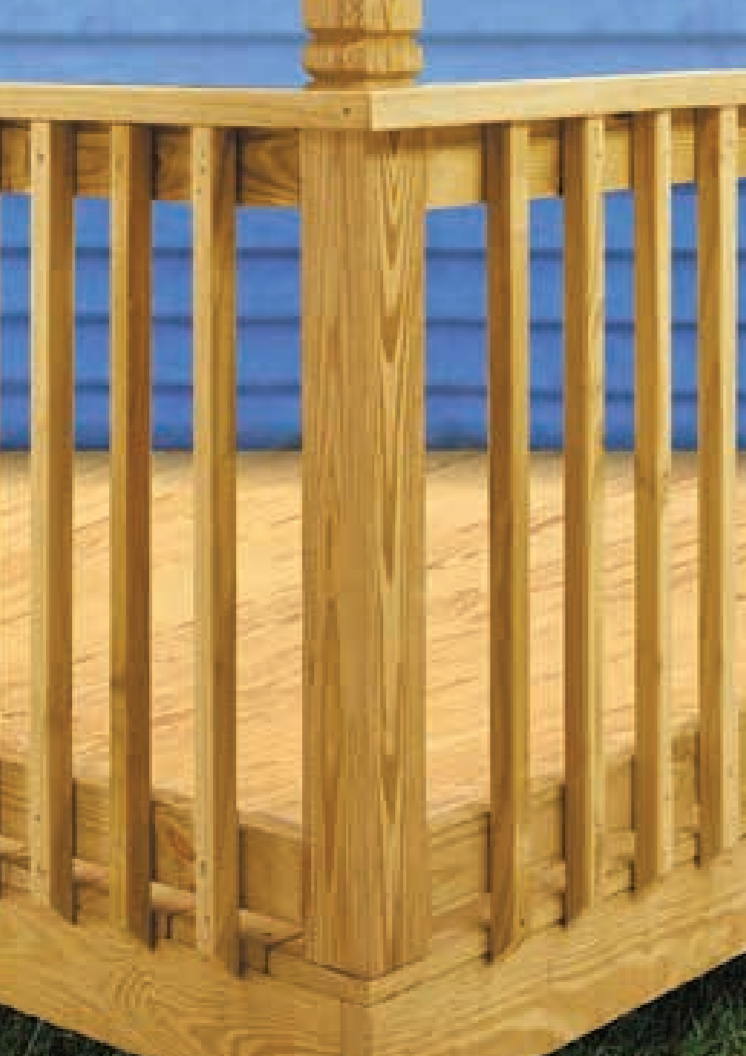 Replace old worn 2x2 wood pickets with Snap Lock Balusters without having to dismantle the entire railing. 
Sideways installation make this possible!
With traditional plug systems you must take down the entire railing and rebuild from scratch.
Make sure to measure the gap between your upper and lower 2x4 rails and pick the 25" or 31" and then cut them down to your specific gap less 1/2" for the thickness of the base connectors.
Aluminum is so easy to cut and is not subject to oxidization the same way ferrous metal are.
This saves you a lot of time and money. But the best thing is that you just gave your old worn-out wood railing a brand new life.
Or Watch This Video
Installing the Snap'n Lock™ Baluster system is so simple even folks who are just starting out can do it themselves with minimal carpentry experience.
The Snap'n Lock™ Baluster kit pairs beautifully with the hidden fastener look of the Shadow Rail Connectors. Check out just how easy it is.  Just click the link below to BUY NOW.


why it works

Do not let the simple look of the Snap'n Lock™ Balusters fool you.  A lot of thought went into conceiving this design to make it work so well.  The base and the collar are designed to incredibly tight tolerances, so they fit together like a glove and constrict around the baluster to hold it tight eliminating any wobble.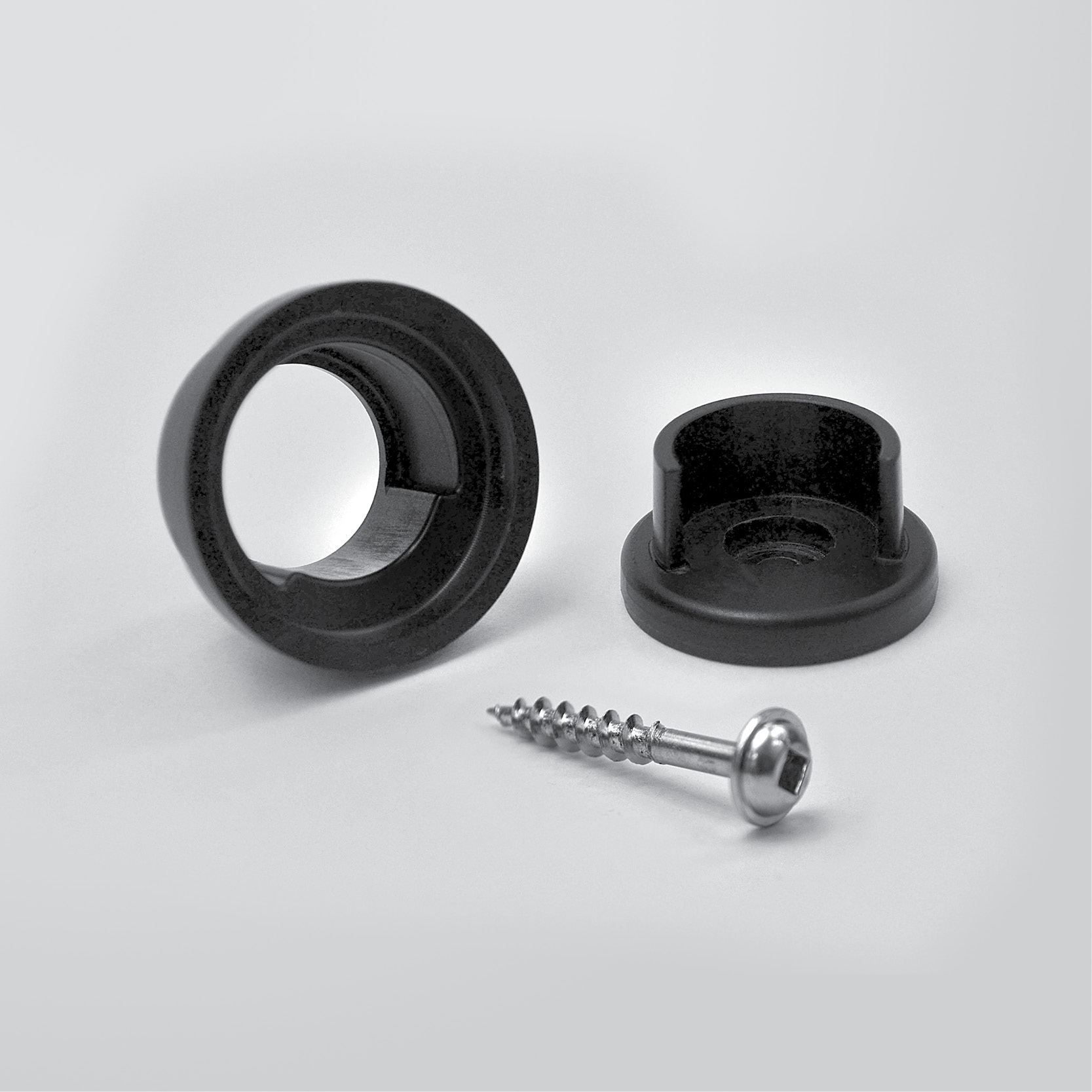 And boy, are they strong

Balustrades were subjected to a standard push test over one square foot (three balusters).  The design load is 50 pounds per square foot (psf) and a safety factor of 2.5x is required.  The Snap'n Lock Balusters sustained 515 lbs before failing.  That is equivalent to a safety factor greater than ten times.
It is now possible for a surface mounted anchor to be used for residential code compliant wood railings.  Just click the link below to BUY NOW.


Some Insightful Thinking

The sidewalls of the base are free to flex and accept the baluster as it is pushed in place.  The mating surfaces of the base and the collar are sloped so that as they slide together the fit gets tighter and tighter until they lock together once fully seated.
The parts can be released by fitting a slot screwdriver under the color and popping it up.  This allows for easy maintenance or the addition of decorative baluster collars anytime after installation.
easily adaptable for stairs
take one snap'n lock baluster kit...

Each kit includes ten Snap'n Lock™ Balusters, twenty Snap'n Lock™ Connectors and Screws, and covers four linear feet.  The 25" balusters are recommended for stair applications. 
...and one pack of stair adapters

The adapter snaps onto the base connector of the Snap'n Lock™ Connectors.  Then you screw the two parts down on to the 2x4.
building stair rails with Snap Lock Baluster stair adapters
Let us take a closer look at how the stair adapters work with the Snap'n Lock™ Baluster connectors.
No need to cut balusters at an angle. 
Just snap the adapter to the underside of the base connector and screw the unified parts to the 2x4 as normal.
This helpful visual guide is worth a thousand words and shows just how simple it is.
The shorter 25" balusters are recommended for most common stair rail applications as shown in the diagram.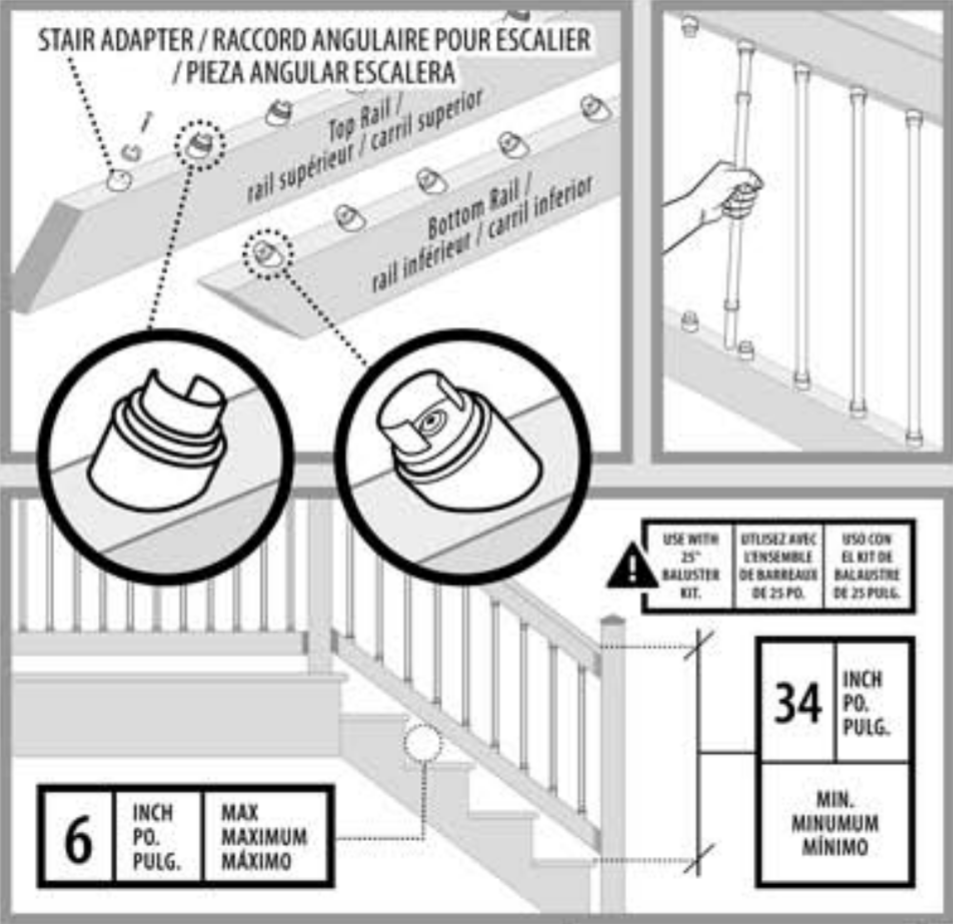 Handles a range of rise and run angles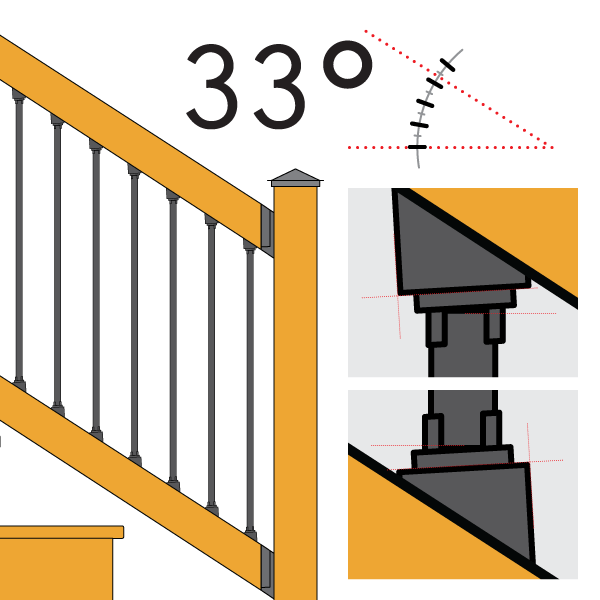 The adapters are set at 35-degrees to match the common rise and run for stairs under the residential code. 
But sometimes you might have a slightly shorter rise and a longer run.  This changes the angle slightly and can differ from the 35-degree default.
Do not worry. They have enough flex to accommodate stairs from 33 to 38-degrees.

you can achieve stunning results just like this

Whether you are a Builder or a DIYer, get ready to build your railings faster and easier. The finished look is outstanding and totally achievable.
If you like this look consider getting all the Titan Building products used in this image like the Snap Lock Baluster connectors and stair adapters, the Shadow Rail Connectors (level and stair), Titan Wood Post Anchor (6x6) and Post Skirt.
Just click the link below to BUY NOW.


case studies of real jobs
80 Feet of Snap'n Lock Balusters Installed by first time DIY'er
This is a DecksGo Recommended Product.  It is a product that we are confident you will be happy with and it has a great track record as a top performer in its category.
DecksGo was the first company to bring this product to the market.  And you can expect more great "first" moments like this.  Because this is what we do - try to bring you leading edge building solutions before anyone else.

Home  Snap'n Lock Balusters