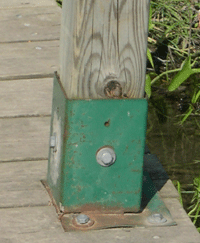 Mounting post to joists has to be done right.

And as you can see from this diagram, some situations can be very complicated.  This is not something for the average weekend DIYer.
Heck, a lot of builders would prefer to avoid this if they could.
Rain, snow and constant humidity is a killer for wood on wood connections.

Depending on your local weather, wood posts can start rotting in as quickly as five years. 
Some parts of the country are drier, so if you are located in these areas you can squeak out more time. 

Why do any of this unless you absolutely have to?

Some jobs have to be joist mounted because the posts have to be seven or eight feet apart and a heavy duty joist bolted system is the only thing that is going to work.