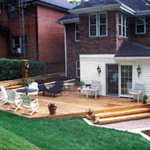 Ground-level decks are a specialty unto themselves. The lower a deck gets to the ground, the more challenging it can become to build the supporting structure below.
Thankfully there are lots of different ways to accomplish this and even a few differing opinions.
You will want to read what's here and maybe ask questions or throw in your helpful insights.