Beautiful Deck Benches Enhance Any Outdoor Area
Adding built in seating around your deck makes your outdoor space more useful and inviting.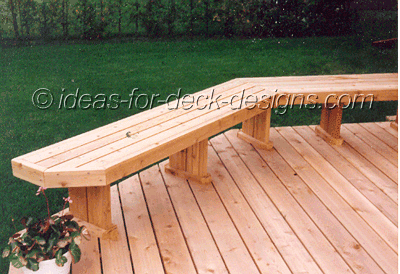 Otherwise your deck may lack character and warmth.
Just a big expansive platform.
But notice how this built in bench really added something both in terms of the look and function.
They offer a place for people to sit.
And they can act as a replacement for railings on a low level deck and really define the deck perimeter.
Define Your Space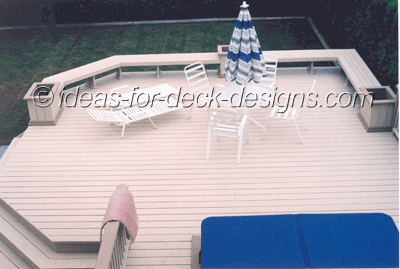 Depending on how you arrange benches around a deck, they can also define living spaces on an otherwise non-descript space.
Notice the variation in using 45 and 90 degree corner built in benches to surround the far perimeter.
Rather than a railing, seating features did the job more beautifully and effectively.
When you have a large space like this, consider the value and enjoyment your guests and you will experience.
A corner bench or a straight bench flanked by planters can draw people to an area of a deck that was otherwise uninviting.
Just look how the perimeter of this large low level deck was tastefully defined using built-in benches and planters.
Unique Ideas For Patio Settings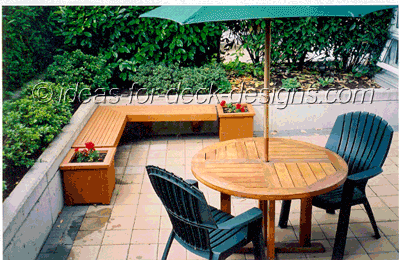 See how this outdoor urban patio with concrete flowerbed walls is transformed into a peaceful space nestled among the plants.
The warmth of wood contrasts beautifully against a more industrial fee of plain and cold concrete.
We'll show you exactly how we built this bench not only to look like it was growing out of the concrete wall but how to last with all the rain.
It's unique design details made this completely removeable and able to shed water and virtually eliminate the threat of rot. The entire bench sits off the concrete wall allowing airflow and drainage.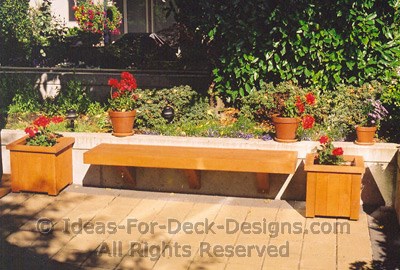 And look at what happens when you add a pair of planters.
This bland space comes alive.
Well designed and placed seating alternatives bench transform an empty unused area of a deck into something much more!
OK, now you know what can be done.
There are a number of more detailed articles below that discuss a variety bench seating styles for different environments.
You will also see how to plan, and build the type that will work best for your deck or patio.
How to Design, Plan and Build Deck Benches And Planters
If you would rather just buy something than do it yourself, let me share with you some information about other outdoor furniture tips and ideas that might help you out.