The Cost of Building A Deck Today
Deck building costs vary across the country...
Many factors come into play on what the cost might be to build your dream deck.
We have taken a survey of our visitors, from across much of the United States and Canada, to help you get a sense.
Check our summary of results at the bottom of this page.
If you would like to contribute to our results, please Take Our Survey! Here's how.
Now let's break down the three cost factors that most affect the final price you'll pay.
Cost Factor #1 - Proximity to Urban Centers
Where do you live?
Generally speaking, the closer you are to larger urban areas the higher the cost of labor.
Wealth tends to gravitate in cities where the economy is strongest.  More buyers, more demand.
Travel times, traffic congestion and cost of living for employees can all translate into higher costs for hiring a contractor.
On the other hand, material costs can be more competitive if you are in a large area where there are several large suppliers.
Cost Factor #2 - Proximity to where materials are produced
Remote locations...
It should be no surprise that lumber, and material costs are higher in places like Hawaii where things must be shipped across vast distances from where they are manufactured.
On the mainland, most areas, rural and urban, are well serviced with building materials.
But in some very remote areas such as Alaska, and the Yukon in Canada, builders may have to have certain materials shipped up or local supply yards may not offer the same diverse and broad selection of materials.
This can increase costs.
Cost Factor #3 - Materials
Materials used...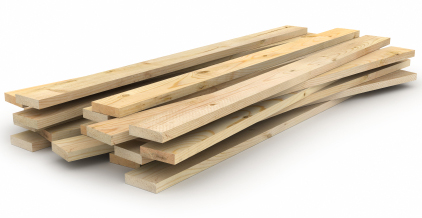 Pressure Treated Lumber
Pressure treated lumbers are the least expensive material to build with.  They include pine, hemlock and other lower grade wood that must be preserved in order to perform outdoors. Learn more about softwoods.
Cedar
Cedar is one of the nicest softwoods available but a bump up in price from pressure treated materials.
Composite
Composite is where you will find the biggest jump in costs.  But, as you are probably aware the reduced annual maintenance over many years will bring savings. Learn more about composite materials and about capped stock.
Hardwoods
Hardwoods are typically thought of as more expensive than composites, but this is not always true.
You might be surprised to learn that several of the hardwoods can actually be less expensive and have a longer life expectancy. Learn more...
What People Are Telling Us
The costs listed below are for labor and materials.
Keep in mind these costs are subjective to how elaborate the deck project is. 
That is why we have shown a Low and High value to provide context.
Type of Materials Used
$/sqft
Michigan
y
15
y
18
Mass.
y
53
Washington
y
25
Missouri
y
15
Arkansas
y
15
New Jersy
y
15
California
y
22
Iowa
y
15
y
24
Kansas
y
22
y
16
31
y
36
Province
BC
y
14
y
34
Ontario
y
20
y
24
29
Quebec
y
36
Nova Scotia
y
15
Yukon
y
35
Don't see your State or Province?
Let us know by adding your comments below.
What Did Your Deck Cost?
What's the cost of building a deck in your part of the country?

Share your expertise with our visitors, build your credibility and be seen by thousands of visitors everyday and get a link back to your site.

Help our visitors out with the price checks in your area on materials. Share it! It's Easy!
What Other Visitors Have Said
Click below to see contributions from other visitors to this page...

Home  >  Building A Deck  >  Cost of Building A Deck