Deck lighting options
Deck Lighting Choices Have Expanded Over The Years.
Illuminating them in various different ways can really do the trick. You will see examples of that in the articles that follow.  And don't forget posts. The one thing that is sure however is...
Outdoor lights will transform your deck!
Select and choose the style of lighting for your deck and learn whether one type is better for your home or not. From low voltage deck lights, solar, post, rail or pathway solutions, you will find it here.

Low Voltage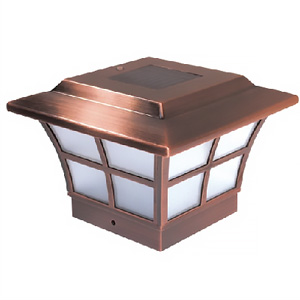 TAKE A LOOK AT THE LATEST IN SOLAR POST CAPS
CLASSY POST CAP PRESTIGE SOLAR - Made from electroplated copper, this light offers a unique design and high output LEDs.Requires 2 ea. Ni-MH rechargeable batteries (included). Solar panels and batteries are not covered under warranty. Light color - 7500 - 9000K.  Go to Decksgo Store Website and get the necessary light solution