Above ground pool deck board problem
by Richard
(Connecticut)
We had a builder frame a deck against our above ground pool.

The deck is roughly 16' x 20' x 4' high and we are going to trex it and put up railing ourselves. The deck joists are all 2 x 12's on 16" centers and sit on cross supports and several 6 x 6 posts. The whole structure is rock solid and passed inspection.

We never gave thought to which way we wanted to lay the Trex boards but now, instead of North South (across the joists), we want to lay them East West (same direction as joists.)

My question is this... Is it possible to lay 2 x 4's on their sides across the top of the joists so the trek will now lie across the 2x4's?


---
Editor's Comments:
This is a great question that a lot of people might want to know. And thankfully the answer is yes. You can change the direction of the decking boards with only a little bit of extra work.
Let Me Explain
I built an addition to a deck a couple years ago and that had a couple new lower levels added to it. Each deck had the board laid at different directions.
So the top decking boards originally ran across the joists as normal but I wanted them to run parallel to the joists.
Block Between The Joist
Without too much work I cut up a bunch of 2x8 blocking and set them between the joists with hangers at 16" spacing from one another.
This created a grid like looking deck framing. You will have to do the same. Yes it is a bit of work. But far less than the alternative.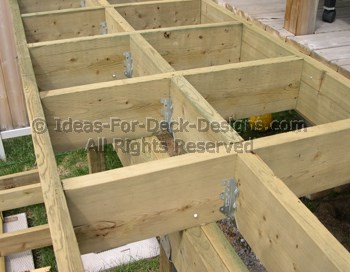 You could do this in three or four hours easy I am sure. So that is how you do it.