Above Ground Pool Deck Design Guidelines
Consider some of these issues about above ground pool deck designs as you embark on your backyard deck.
Every deck and backyard is different but each project should be approached with the same desire; create an outdoor living space that performs a function and is designed to work with the home and landscape.
The Homeowner's Design Wishes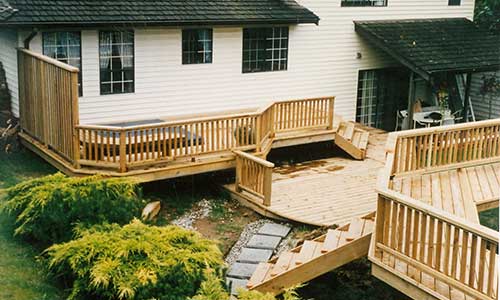 With this particular project the homeowners wanted a deck concept that would tie in both the above ground pool and hot tub with their house. 
Their backyard faced north which reduced sun exposure and the lot sloped upwards in the back and on the east side to the neighbors.
Possible Solutions

The clients and I decided to locate the hot tub close to the house at the main floor level and sink it into the deck with a board on board privacy fence rail to create intimacy and break the wind.
I also used built-in-benches around the tub to allow for additional socializing.

This design aspect required excavating so that the hot tub could be set at the correct elevation to the finished decking surface.
The deck then moved to the transition zone further from the house where it would be exposed to the sun. I created a circular deck structure as a sun and sitting area with patio stones leading to the above ground pool deck.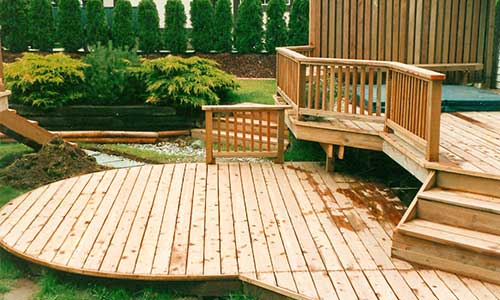 The above ground pool deck was only four feet high therefore it did not require extra bracing around the posts. Note:  Extra bracing around posts is dependent of the height of the deck. 




Once completed the above ground pool deck design, although basic in detail, functioned well with the other decking areas and it appeared to have a connection to the rest of the home.

Sometimes, above ground pool decks can be set off from a home and therefore appear like an orphan. Try to avoid this as you come up with design ideas.



Home  >  Planning & Design  >  Above Ground Pool Deck Design