Above Ground Pool Deck Post Spacing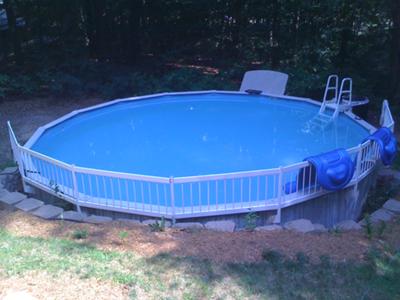 My Pool
I would like to build a simple deck next to a 24' round pool maybe 12x12 or 12x14.


assuming stable ground.

Can I use 2 6x6 posts on concrete piers with 2x12's beams sandwiched around them. the deck will only be a couple feet high. will have a 1 to 2 foot cantilever on the pool side. Or do I need 3 posts?

I was just going to keep it simple square/rectangle with slight overhang over the pool

Is it better to have the beams orientated perpendicular to the pool (joists parallel to pool side) or have ends of joist toward the side of the pool?

Top Picture is my pool, my first thought was just to lay a small platform on top the retaining wall just as an entry/exit but I would have to actually dig down a couple feet not sure the platform below grade would work. Was thinking of putting simple deck on left side where rail ends.

Picture 2 is my buddies deck I think it uses too much wood, looks nice though. I also would like the deck over the rail so kids are not standing on the pool sides.

Pic 3 is what I was thinking slight overhang on the pool, nothing to scale. the heavy black lines would be the posts and beams.

any thoughts?