Attaching cedar cap rail to 2x4 rails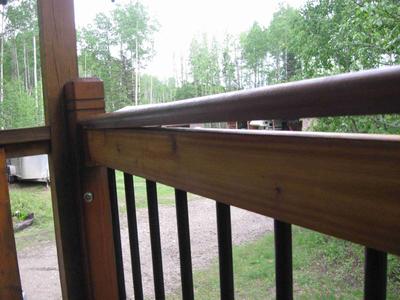 The Rail and Balustrade View
I am trying to decide the best way to secure a nice shaped cedar cap rail over the top 2x4 rail.

The deck railing is built. Each railing panel is between a 4x4 post and consists of an upper and lower cedar 2x4 rail oriented on it's edge with aluminum pipe spindles every 4 inches.

The cap rail that goes over the top rail is grooved underneath to fit nicely over the 2x4 on its edge.

What is the best way to secure or attach the cap rail to the 2x4 without using nails or screws from the top? I don't want to drill any holes on the hand rail surface so I am thinking carpenter adhesive of some sort? PLP 300 or wood glue or what?