Basic Tools To Build A Deck Project
Before you consider to build a deck or any outdoor project get some basic tools.
The following are really inexpensive tools to purchase but that are essential to building.   Next time you are in your local building store take some time and pick these things up.
The simple things that you will appreciate having on your job site that will keep you safe, comfortable and organized are a good tool belt, work gloves and safety boots.
Work Boots

A good pair of work boots will be used for much more than building your deck and they are designed to last.  Keep you casual shoes intact and invest in a pair of good work boots.  
Dust Mask
Your lungs will thank you for wearing a dust mask. There is a lot of saw dust, Portland cement dust and other airborne debris that will get into your nose and lungs, so it is very important to get and wear a dust mask.
Leather Work Gloves
Do you push paper for a living? Then don't even think about taking on a building project without some decent leather work gloves.  Even seasoned tradesmen know enough to wear gloves to prevent wood slivers etc.
Leather Tool Belt

A good tool belt will help to keep you organized on your job site. No more running around searching for where you last set down your hammer, nail set or pencil - which should be behind your ear like every good carpenter. 
Hammer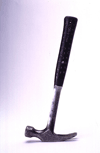 Get yourself a good hammer. This is a photo of an Estwing - my favorite. I have had my Estwing for a long time and it feels great in my hands because it's just the right weight.
It's well balanced so you won't get a sore elbow or get tired quickly and I have never got any nasty blisters. 
Where Can You Get These Basic Tools
Just head down to any local building supply store and you should find all the basic tools you need. 
So, no excuses.  Just get out there and start building that backyard deck today!