Build a Fireplace Outdoors
Here is a basic summary of how to build a fireplace outdoors. This has got to be one of the best deck improvement ideas there is.
Now, if you live in a really warm climate 12 months of the year, I can certainly understand that you may not benefit from an outdoor fireplace.  :) 
But if you're like most of us, there are many occasions when the warmth and glow from a fireplace, built into your deck, would add immense pleasure to your backyard experience.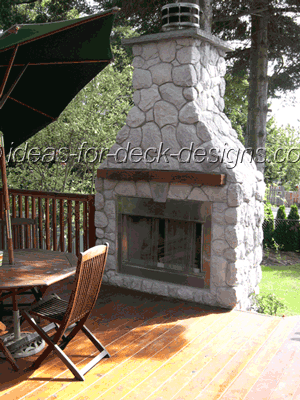 Here's an outdoor fireplace that I am going to describe how to build.
The building process will be broken down into a few steps.
Planning
Framing
Installing Fireplace
Gas Connection
Masonry Work
Planning
Take some time to decide where you should build your fireplace. This deck was built on a slope, about 3'-4' above ground.
The best location for the fireplace structure was along the side of the deck. The structure was built by first digging four holes 3' deep and pouring cement into 8" tubes to create a solid footing and pier upon which the structure would rest.
Framing
A platform about 5' by 3' at the same level as the deck was supported by 4x4 posts that were anchored to the concrete piers. The 4x4 posts were braced in a truss like fashion to stiffen the elevated platform.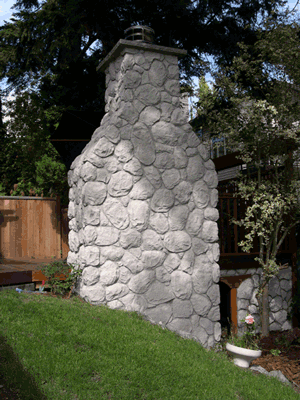 The next phase of framing was to build the chimney style fireplace using 2x4 material. This created the shape of the structure - a gentle slope as shown in this picture.
There were set minimum heights for the chimney flue and the setback distances for the gas fireplace unit which fit into the structure.  So be sure to read the requirements for your outdoor fireplace before you begin building.
The frame was then sheated with 5/8" fir plywood.  These are very simple framing and building techniques but be sure to pay attention to the openings and safety features of the fireplace unit itself.
Installing Fireplace
This was a wood burning outdoor fireplace but it used a natural gas powered burner to quickly light the firewood.  A super option to consider!
The appliance is made of stainless steel to handle the outdoors - an essential feature if you intend to do this project.
Gas Connection
A natural gas line had already been extended outdoors from the house to feed the gas BBQ grill. So an extension was added and it runs underneath the deck to the new location for the fireplace.
Masonry Work
A solid timber mantel piece was installed to balance out the heavy appearance of the cultured stone. A small mantel piece would have looked out of place.

Then, the entire frame was covered with 15 lbs. felt paper and wire lath was nailed over top. A scratch coat of mortar was applied and given time to dry.

Now the fun began as each cultured stone was individually selected and dry fitted into place to determine the best fit. Some stones had to be chipped and broken to fit gaps. But it all came together perfectly.

After all the stones were in place and dry a final coat of mortar was placed into each crack and brushed for a clean finished look. Just as much care went into finishing the back of this outdoor fireplace as the front. The stone went right to the ground.

Doesn't this look great?!  Now get out there and build your own fireplace outdoors and start enjoying an extended deck season.
Where Can You Get Great Outdoor Fireplaces and Accessories?
I refer my visitors who are interested in learning more about the different outdoor fireplaces available to one of the very best online retailers in the business - Garden.com
They have a huge selection of different outdoor heating options for different budgets and different needs. These products aren't often carried in the big box stores, and certainly not to the variety you will find at Garden.com
Also, they just have a super inventory of a million different things for your backyard. At the very least, you'll have a blast exploring!