Comparing Wood Rail Connectors
As you plan your wood deck railing, comparing rail connectors can show you the look you want.
While things have remained fairly constant in this product category for the last ten years, there have been some new entrants to the market.
We will start off with a quick summary of the basic function, purpose and benefits of using these connection methods.
Then a quick look at standard solutions typically available and what you can expect if you use them on your deck.
Finish off with a new solution - the Shadow Rail Connector™ by Titan.
The first hidden fastener solution on the market and this makes it very small and discrete. You will like it.
Connectors Simplify, Beautify and add Longevity
For at least 10 years DIYers and Builders have had the benefit of these handy devices.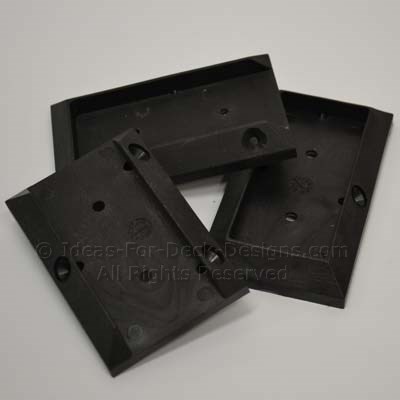 No surprises here.
The standard device for attaching the 2x4 to the post is a convex cavity shaped bracket made of polypropylene plastic.
There area some design variations among manufacturers where each has a different take on the shape of the outer chamfered edge. Design patents usually.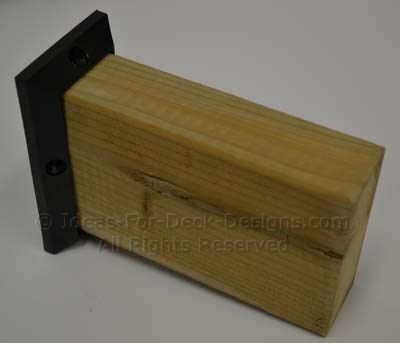 The essence remains the same. A bracket that fits around the end of the 2x4 rail, cradling it and creating some mass of material to help you toe-nail screw it to the post.
Looks ok. Performs well and saves you a lot time and hassle.
For those of you looking for the finest appearances you will be let down by the bulky edges that stick out.
But there has never been a solution to that.
Until now...
Less is More - A New Connector Has Arrived
Smaller and all screws are hidden inside the connector.
The appearance of the Shadow Rail Connector™ has many people staring trying to figure out how it connects post and rail!
If your deck matters to you, the tiny expense for these connectors is well worth the final result. You will love looking at for decades to come.
How Does It Work?
A very precisely made male and female channel. It is complicated to design and make such a visually simple looking solution so won't bore you with all the technical stuff.
Just know that it looks amazing. It's 100% made in North America of the finest USA polycarbonate available so it looks and works great in extreme hot and cold temperatures.
This Video Shows How They Slide Together
An Elegant and Stunning Look In Comparison
If your deck is a show piece - just for you - or for others - the finished look you can achieve is fabulous.
The connector goes perfectly with the surface mounted Titan Post Anchor™ also.
So when comparing wood rail connectors consider what is most important to you. There is a choice now if aesthetics matter.
Whatever style you choose, do use some kind of connector.
You will find it simplifies construction and separating wood from wood gives your deck longevity.
Learn more about the Shadow Rail™.
Go Get Building
There are no excuses now.
The choices are there for however you wish to build your deck railing. Or keep on reading some of our other articles.