What's The Difference From Wood?

You have probably seen composite decking options at your local hardware store or lumberyard, and likely have wondered how these products compare to wood decking.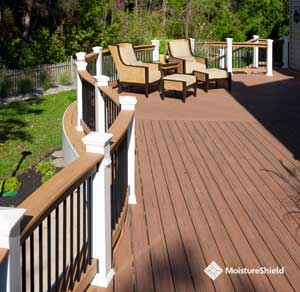 The Perfect Combination Of Wood And Plastic

In your search for information, a good first question to answer is: What is a composite board?
Composite decking boards typically combine wood and plastic to create boards that can be used for virtually any decking project and require less long-term maintenance than wood. 
Long Life Span, Minimal Upkeep and Warrantied for Your Confidence
Built to last, some composite deck manufacturers offer warranties, like MoistureShield's limited lifetime warranty that can not be matched by most wood decking.
This assurance of quality and safety has pushed more homeowners to switch to composites for their decks, docks, and other outdoor living spaces.

Visible Or Invisible Fastening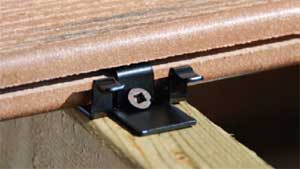 Most composite boards can be installed using the same tools used when working with wood, keeping your installation process simple.
Installation times can also be cut by using hidden fasteners that fit with grooved-edge composite boards and attach using a pneumatic gun, eliminating steps in your building process.
And No Routine Sanding, Staining Or Sealing
Unlike traditional wood decks, once your composite deck is installed, the most difficult work is over. There is no need for routine painting, staining, or sealing, leaving more time for you to enjoy your beautiful new outdoor living space.
Incredible Beauty That Mimics Nature

In the past, the main downfall of composites was their lack of natural beauty.
Homeowners complained that composite boards lost the look and the overall warmth of the natural grains found in wood, appearing more like hard plastic.
Vivid Visual And Textural Grain Detail - That Lasts
To address this concern, manufacturers have developed ways to create composites that mimic that natural grain found in wood deck boards.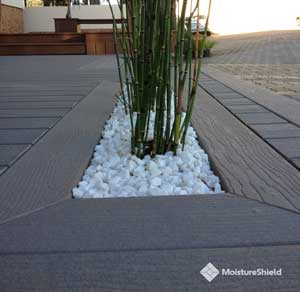 Available in a variety of colors, composite boards are now made to match or even exceed the beauty of traditional wood boards and they are designed to maintain their color much longer.
Many Colors, Textures, To Create The Look You Are Searching For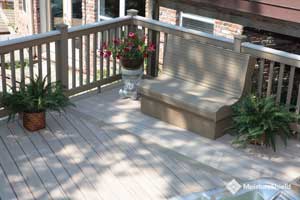 The combination of wood and plastic in composite boards reduces the amount of long-term maintenance necessary to keep your deck looking its best.
Two Types Of Composite Boards

Composites come two ways: capped or uncapped.
A capped composite board boasts an added layer of protection against fading and staining.
That said, some manufacturers have now developed technology to fully encapsulate wood fibers in recycled plastic, protecting each board to the core even without a cap.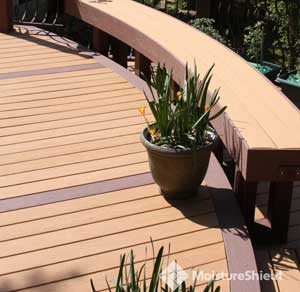 Composite boards are also more resistant to warping, twisting and splitting, allowing you to have more confidence in the safety of your deck.