Cook's Dock Deck
by Chris Cook
(Ft.Wayne, IN)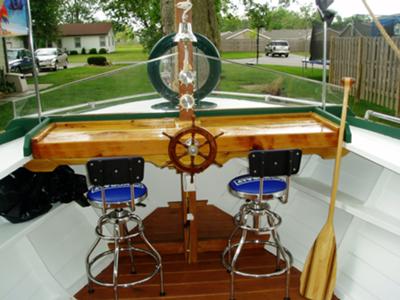 I got this front half of the boat given to me. I didnt know what I was going to do with it other than maybe use it for a nice bon-fire!

But I wanted to turn it into my backyard tiki bar so I called my good old friend George to help. This topped all of his projects and he has been a handy many for over 27 years.

We had no plans from the start so just started at the front and worked our way back using my imagination and connected it to my shed. We built a deck in it and put an underground pump in it just in case it ever gets water standing in bottom of it.

I used shower curtain rods for the top ledges, plexi-glass for the windshield, shelf brackets for the frame and composite wood decking on the top so it could bend a little. Then I used a fourteen foot 6x6 for the mast. I used red and green lights like it was on the water and green led rope lights on the sides - white led lights on the inner side to light up the shelves.

I made my own bow light out of steel piping and the old style canister lights with colored bulbs to match the sides. This was a real wood boat from the late 1800s to early 1900s.

The guy that gave it to me owns an antiuqe shop. He had it for several years and did nothing with it. So this old boat is still going in my backyard and has been a blast.

Its a good conversation piece and a remarkable good job. I am very proud of it. It was lots of headaches while doing the project.

I'm the only one that I know of in the world who has a boat that you can sit in, ring the bell, steer it and have the kids climb out the port hole and have a grrrrrrrrrrreeeeeeaaaattttttt time!

So if anyone tops this please let me know. Thank you.

P.S. There is also a dock going to my pool from the boat with a hot tub on the patio.
Join in and write your own page! It's easy to do. How? Simply click here to return to Ground Level Deck Forum.