What Are All The Deck Components?
Learn to Talk the Talk Like a Pro
Here's a quick deck components refresher with names and definitions so you will sound like you know what you are talking about when you speak to a contractor or walk into a lumber store.
There is nothing better than an illustration to clearly show and identify each part of a deck.  Being able to refer to a specific deck component - like a pier, footing, rim joist, or cantilever - makes it easier for everyone to understand each other.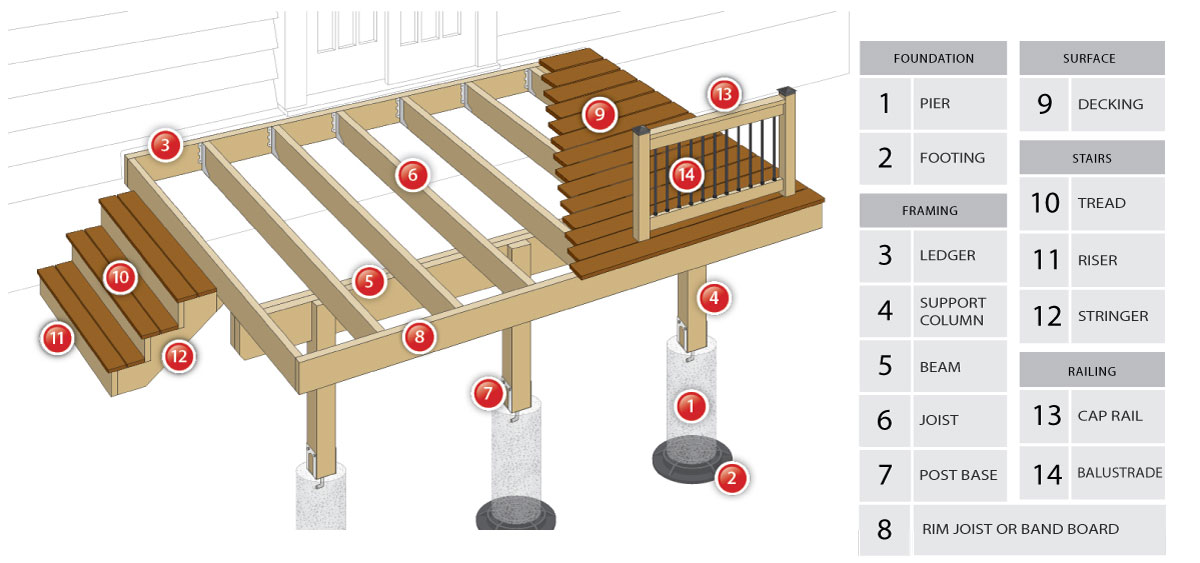 Deck Components
Piers


Concrete poured into sonotubes below grade or portable concrete footings that sit on top of grade
Footing

Wide concrete base that piers rest on to spread load of deck
Ledger

A rim joist secured to the house that supports joists and forms the outer perimeter of the deck
Beams

Dimensional lumber set a top posts at horizontal attitude to support deck substructure
Blocking

Smaller pieces of dimensional lumber secured between joists, usually near the outer edges of the deck to provide support for mounting of posts or stair stringers
Joists

Dimensional lumber set parallel to each other that creates the actual deck structure and rests on beams

Rim Joist

Dimensional lumber that acts as the outer joist of the framed deck structure
Post Anchors

Metal brackets set into concrete footings and that attach posts to the footings

Posts

Dimensional lumber set on footings that support beams and the deck substructure
Cantilever

The portion of a deck structure that overhangs a supporting beam
Deck Flooring
Dimensional lumber secured to the joists and forms the finished surface of the deck
Fascia
Usually a 1x8 or 1x10 decorative piece of lumber that skirts the outside edge of the deck framing to create a finished look
Balusters

Vertically oriented members, usually 2x2, that are spaced between the top and bottom rails and railing posts to provide a barrier

Balustrade

Section of the railing panel that fits between railing posts consisting of top and bottom rails and balusters
Stringer


Dimensional lumber that support the stair treads of deck stairs
Home  >  Building A Deck  >  Deck Components