I am chuckling to myself as I write this from the air conditioned comfort of my basement home office.
The sun is shining through my window and you'd never know that it's almost 100 F outside right now - and humid. Such are the dog days of summer which allow us time to reflect and plan our construction projects.
his season, I'm planning and building a beautiful three-level deck that cascades around a hot tub spa.
Like many builders and homeowners, today I had to abandon the days work - it was just too hot. So much sweat in my eyes I could barely keep them open.
And so it got me to thinking about the new deck oasis I was building and how intimate backyard spaces have become.
I am finding that even in a tough economy like today, people still see value and importance in improving their homes.
While many other luxuries fall out of favor, homeowners still seem to want to enjoy their castle. They value the design and quality of the products they buy and the deck projects they take on.
Whether you are a homeowner or a builder this is an exciting time in the building industry both in terms of accessibility, product innovation and the quality selection of deck building materials.
The design and engineering of these products have advanced substantially allowing personal and professional building projects to look better and last significantly longer.
As I considered the design of my new deck, some of these exciting products helped drive the design from both an esthetics and a functional perspective.
Some top functional products I considered include everything from non-corroding metal balusters, synthetic decking materials, under deck waterproofing systems, post anchors and ledger mounting connectors and systems.
My wife and I enjoy entertaining with our friends and family so an inviting design was also very important to us.
On the esthetics side there are many options to consider including color matched fasteners, hidden decking fasteners, contemporary post caps and lighting systems to name a few.
Who would think that there would be so much too choose from?
As someone who has been in the industry for over 20 years, it's not just the advances in products that benefit homeowners. I am also seeing increased skill and design in the decks being built today compared to years ago.
In this edition and in keeping with the theme of the product and design choices available to us I have a great article from our guest writer, Bill Nezbeth of Silca System.
Bill's company manufactures a grate system that sits over top conventional joist framing and allows paver stones to be installed over top in a breeze.
A perfect example of sophisticated style and function.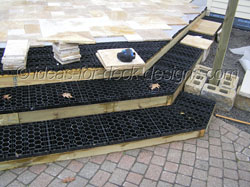 This technical design innovation makes it possible to use paver stones in elevated decks at a fraction of the cost of traditional landscaping using fill and retaining walls. It also makes for a luxurious looking extension to any home and is virtually maintenance free.
Gone are the days where people build big just for the sake of building big. In fact, most folks are on a budget and so smaller more functional decks are very popular. They are designed to maximize the use of the space.
Increased knowledge and accessibility has made it possible for builders and homeowners alike to benefit from subtle and sophisticated design and function.
So when all of us should be outside as much as possible with family, friends and enjoying are backyard living spaces to the maximum, it seemed appropriate to take note of where we are today, and where we have come from.
This issue also includes a great little picture frame decking building tip to help you out when you're constructing your dream deck.
We love to hear about new and exciting ideas so please add us to your Facebook account and let us know what is keeping you busy this season!
Have a great summer!