Of course, if you expect a lot of snow to sit on your deck over the winter or envision an 8,000 lb hot tub on the deck this could increase the required load capacity of your deck up to 100 psf.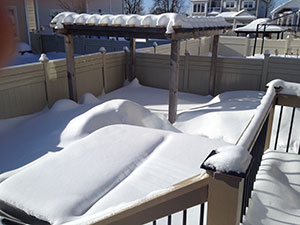 Not all locations experience seasonal changes like the one depicted in the series of photos.  But given the amount of snow piled up on this deck you can see why it is important to consider all the forces that will be at work on your deck and then calculate and build accordingly.
Framing For The Design Load

To avoid referring to complicated engineering tables and for the purpose of building a deck, let us start with the idea that using standard 2x8 softwood lumber at 16" o.c. joist spacing your deck will easily meet the 50 psf threshold.
What About Snow Load Or a Spa Tub
Yes, this is a concern but the net effect or changes you might have to do to increase the strength of the deck could be as simple as using 2x10 joists at 12" o.c. spacing.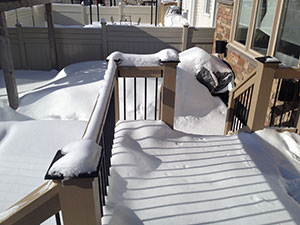 The framed structure will typically handle the added weight quite easily.
The worry will be your beam spacing, support post size and most importantly how many footings and how much weight will they impose directly on the soil below. 
This is critical because if you overload the soil more than it can bear, the deck will start to sink.  A very bad thing.