Tips For Deck Stair Footings and Landings
What are the guidelines for footings and stairs?
Do stairs from a deck have to be connected to frost footings?
What if the landing is already built and is a concrete slab or another deck level?
These are all great questions and if you are venturing out building your first deck you need some answers.
It is not always straight forward as sometime you will have more than one level of deck connected to another by a stair case.
Footings obviously do not apply in that situation.
But we will cover the main areas of concern for you.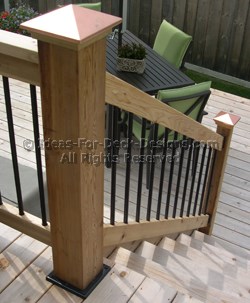 Footings Required Where
The Stairs Meet The Ground
This is an example of stairs resting on a concrete pier and footing system.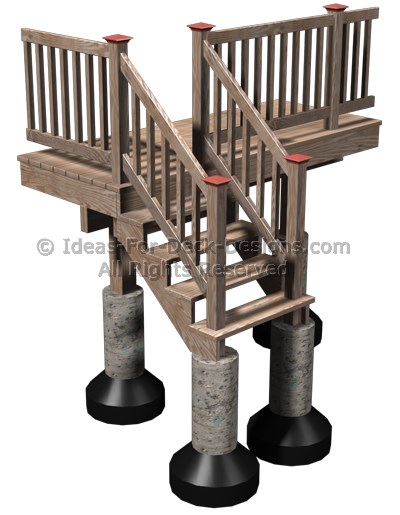 Footing Depth: 12" mimimum or to frost line
Footing Size: 10"x10" square, 12" diameter
If no concrete pier is used, the post should bear on the footing and stringers should bear on 2x4 blocking fastened to 4x4 posts with #8x3-1/2" screws or 16d nails.
Concrete Slab or Patio Landings
If the stairs are resting on a concrete slab or a patio then the slab or patio should also be built with a similar foundation to resist frost movement.
Is This Necessary?
Not really. See the comments below regarding the building code.
Building Code Tip
The residential building code does not mandate that you have frost footings for the stair rail newel posts or that the landing be built to withstand annual frost up and down movement.
If you choose to build this way, fine. It is way beyond what is required but would surely be indestructable.
There is no reason why setting the stairs on a landing which moves marginally over the seasons is a problem.
Yes, a hinge moment is created at the stair case connection to the ledger. But other than temporarily generating some stress on the joint that consists of numerous bolts and backing boards it is not about to give way.
But if you feel the need, go ahead and install frost footings. Just don't worry that your deck is at risk if you do not do so.
Some Other Great Reading
These are tried, tested and true methods of attaching stair treads to stringers. You have a few styles you can use depending on the look you prefer.