Consider Deck Stair Lighting
Not only does deck stair lighting look great, it makes your deck safer.
This is the kind of lighting accessory that you will thank yourself for installing ever evening you sit out on your deck.
They illuminate a pathway for you and your guests as the light goes down, making is safer and more comfortable to see where you are going.
But best of all, they emphasize the shape of the structure and in a very subtle way.
It's a great design touch for any deck. Low voltages lighting systems are the typical way to go.
So just plug in the transformer underneath the deck and run the wires around the framing below.
Truly one of the simplest lighting options you can do all by yourself.
Wide Stair Cases Look Super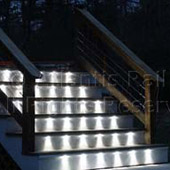 Run a wire under each bullnose.
A full staircase, as shown on this deck, comes alive when illuminated in the evening.
There are various strengths of light, depending on much light you are looking for.
During the day, the cable rail makes it stand out. In the evening, the focus switches to the staircase itself and shows how anyone is walking around. Perfect pathway lighting.
Cascading stairs look nice when illuminated.
The beauty of a geometrically shaped cascading staircase is plain to see in the daylight. But once the sun drops, it is less prominent.
Installing light deck grates on the risers of the stairs in key locations gently lights up the area and presents its shape once again.
This kind of system is simple to install as long as you an gain access to underneath the deck framing to run the low voltage wires.
Shine A Little Light On Those Stairs
When it comes to shining light on your posts, there are great choices.
Don't underestimate the beauty of adding deck stair lighting as you plan and design your deck.
Home  >  Deck Lighting  >  Deck Stair Lighting