Decks - Pergolas - Gazebos - 3 of The Most Common Backyard Projects
No surprise that decks, pergolas and gazebos are probably the three most common backyard home improvements for homeowners.
People love their decks and pride themselves in having a beautiful outdoor living space - an extension of the home - to enjoy the warmer months.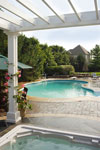 Pergolas, on the other hand are beautiful entrance way arches that define gates or walkways.
They compliment fences or they can also act like a open air roof structures over a deck. See some super affordable plans from Pergola-Plans.com.
A pergola can be the perfect touch to finish off a patio such as this hot tub spa. See some super affordable plans from Pergola-Plans.com.

Gazebos are beautiful roof covered structures, usually open to the air or can be screened and are places to relax and enjoy your surroundings.
Hot tubs are often fitted into gazebos to provide coverage from the rain or even snow during the winter months.
If you would like to learn more about each of these topics click on decks, pergolas or gazebos below and I will discuss such things as design options, building tips, and where to you can get started.
Try Building Your Own Pergola With These Plans!
Why not!
If you have some basic carpentry skills you will save a few bucks for sure. I recommend you check out Pergola-Plans.com for really affordable proven plans that will help every step of the way.
To check out all the pergola plans available just Click Here!
Or Buy Beautiful Pergolas and Gazebos For Your Deck!
I refer my visitors who are interested in learning more about the different pergola structures to enhance decks and who don't want to build themselves to one of the very best online retailers in the business, Garden.com
They have a huge selection of different pergolas for different budgets and different needs. These products aren't often carried in the big box stores, and certainly not to the variety you will find Garden.com
Also, they just have a super inventory of a million different things for your backyard. At the very least, you'll have a blast exploring!