So when did the contemporary idea of backyard decks become so popular?

Interestingly enough, wood decks are a relatively knew phenomenon over the last 50 or 60 years. It used to be that homes had covered front porches where people would gather and socialize. It served a slightly different purpose then and was usually tastefully built-in as part of the overall architectural design of the home.
However the kind of decks found on single-family homes today are not really part of any defined architectural movement or period. The deck designs of today evolved from the west coast, which was younger, hipper, and less concerned about sticking to traditional architectural designs.
People just started building cedar or redwood decks on to the backs of their homes to create more living space and take advantage of the milder weather.
And when pressure treated wood became available it was then possible for homeowners in the more seasonal parts of the country to build decks that would last longer and withstand the elements.
And perhaps another reason why decks became so popular was because most builders did not provide any front or back covered porches on their homes. Also many homes were being built 3 feet or more above grade requiring stairs from the back door to the ground.
So building a deck was a perfect solution and something usually done by each homeowner afterwards.
Most Backyard Decks Clash With The Style of The Home
But here is the dilemma, since a deck is really just a platform to sit on and relax, very little effort tends to go into creating deck designs that actually look good and work with the architecture of today's homes.
And because of the perceived simplicity of building a deck, almost every handy man has tried his hand at this one time or another, further exacerbating the deck design void.
To create a well designed deck that has some style and looks like it belongs well with a home, rather than an after thought, requires only a bit more effort. But the results are worth it.
So here are some tips to help you come up with better deck designs for your next project.
Materials
Redwood and cedar are beautiful materials to work with and perform well for decks. But there are all kinds of materials at your disposal nowadays that offer different design influences.
Consider the design options available from aluminum, vinyl, glass or wood railing combinations. Different decking materials such as Ipe and even mahogany give your deck a real feel of attachment to the home.
And to add visual and material contrast don't forget that the actual deck surface materials nowadays can include advanced waterproof and maintenance free vinyl flooring material, fiberglass, as well as one of over 55 different kinds of composite decking boards.
Consider Existing Architecture of Your Home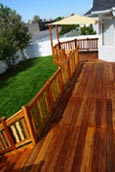 Probably the most important thing to consider when designing your deck is the existing style of your home. This is certainly the one area that deck builders often overlook entirely and just go ahead and build a big cedar or redwood rectangle suspended 4 feet above the ground regardless of the look and style of the existing home.
Instead look at your home and identify its architectural influences - if any. Some homes built over the last 30-40 years are quite nondescript so you'll have to wing it a bit in those cases.
But if you have Arts and Crafts bungalow style home famous for its simple but robust accents such as large beams supporting roof overhangs, shingle siding and clean lines - try to add hints of some of these attributes to your deck.
If you have a Cape Cod style home famous for long sloping front oriented roofs and dormers, a California influenced redwood deck is going to appear a bit out of place however well designed and built it is.
On the other hand, a deck that uses the soft marine influenced color palette for the deck boards or fascia with white railings, or teak inspired decking (if you can afford it - Ipe is a nice alternative) might look like a perfect match.
Another example might be a Victorian era style home known for is "busier" appearance. These homes exemplify complexity in detail with such attributes as large turned balusters, circular turret style roofs, curved walls and more. They also typically had large porches on the front of the homes with roof overhangs.
Imagine just sticking a square pressure treated 2x6 deck on the back of one of these homes. It would detract from the character of this kind of home.
These are extreme examples of how architecture can clash but hopefully illustrates the point well.
So you see, you have to just take a bit of time to think about how this additional living space will work with the overall design of your home. But you will be delighted with the improvement to your deck designs if you follow these simple approaches.
So get out there and build it right!
Copyright © Ideas-For-Deck-Designs. All rights reserved.