Face Screwing Deck Boards From Underneath the Deck Boards
by Terry
(Northern California)
I'm installing Gossen (PVC) decking on a metal framed deck (light gauge steel framing). I would like to have a hidden fastener look with the connection strength of face screwing. Would it be acceptable to use self-tapping #10-16 x 3/4" galv screws to screw through the joist into the bottom side of the deck board?


---
Editor's Comments:
This is a very interesting idea. I must say I like it. Gossen PVC decking boards are 1" thick and so a 3/4" self tapping screw might do the trick. It certainly is the right length.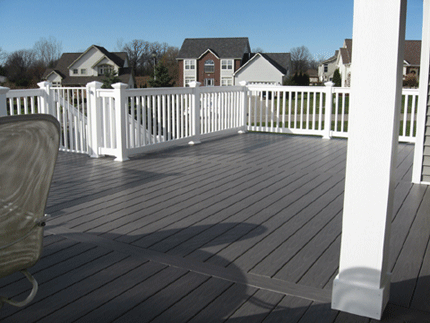 The only question I would have about a self drilling tapping screw is you lose a little bit of the hold power into the decking due to the drill bit part of the screw.
Also metal tapping threads are designed to hold best into sheet metal. This is great but I would just like to try those screws on a metal joist from underside into some boards and see for myself how well it holds.
It should work very well. PVC is very dense material and so the holding power should be great. If the screws don't meet your expectations then I would just use a non self drilling screw.
This would double your time however because you would have to predrill the hole and then drive in the screw.
And no matter what kind of screw you settle on using, you will have to have someone on top of the deck positioning each board and applying downward pressure as drill and drive each screw.
But it this works you will have the best of both worlds - a totally hidden fastened deck and a face mounted/screw joist to board connection. Nothing stronger.
I am sure many visitors to DecksGo will want to be kept up to date on your project.