Factor 1: Needs Of Homeowners And The Trades Drives Innovation

With changing trends and technological advancements, the composite decking market is constantly evolving.
To keep up with market demands, composite decking manufacturers must keep their ear to the ground and continuously work on developing innovative products. These manufacturers can not just create any board, though.
Market research is crucial to the successful development of new composite deck boards.
The conceptualization and design of new boards must understand the needs of the homeowner, the trade trends, and the ever-changing economy as it effects the building industry.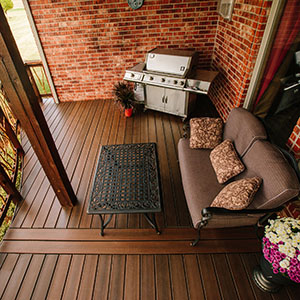 Factor 2: Performance And Aesthetic Improvements Go Together

Before creating a new product, one of the first steps is understanding what homeowners are looking for, both in performance and aesthetics. Home trends change seasonally and understanding the design tastes of modern homeowners is essential.
With the extension of the backyard as an outdoor living area, homeowners are now looking for finishes and colors that extend their indoor designs.

Factor 3: A Taste For Incredibly Rich And Vibrant Colors

This has led to the development of darker, rich- toned deck board colors like Ipe and Brazilian Chestnut and advancements in the texture of the board's surfaces.
Early generations of composites were designed as single flat colors with little or no resemblance to traditional wood.
Based on homeowner and builder feedback, brands like MoistureShield have developed realistic wood grain embossing patterns and high-end streaking techniques that resemble luxurious hard woods.
Factor 4: Ease Of Installation Is Important Also
Homeowner trends cannot be the only consideration in product development, though.
And because of a strong and influential trade industry, a composite decking manufacturer must make sure that they also meet the needs of builders and retailers to have a successful building product.
While contractors are also concerned with the homeowner's desires for improved performance and rich aesthetics, consideration for practicality and ease of installation can be a major factor in choosing a composite decking brand.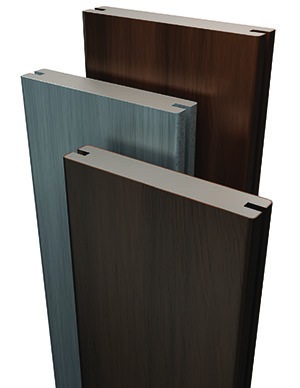 With this in mind, manufacturers have introduced products like hidden fasteners that quicken installation and have added complementary composite or aluminum railing systems that simplify the process of designing and completing a deck.
Factor 5: Competition Drives A Desire To Stand Out

Finally, professionals in the building industry are dependent on a steady economy.
Recently, the industry has been on the rise following the few slow years of the recession. As the economy continues to become more stable, more and more homeowners are preparing to build new homes or remodel their existing homes.
With this in mind, manufacturers of all building products want to present something to homeowners that will catch their eye, and quality aesthetics are becoming more of a selling point than simple price products. This opens up many new product development opportunities for manufacturers, and especially manufacturers of specialty products like composite decking.