Fire Resistant Deck Material Choices
What You Need To Know About Fire Resistant Deck Materials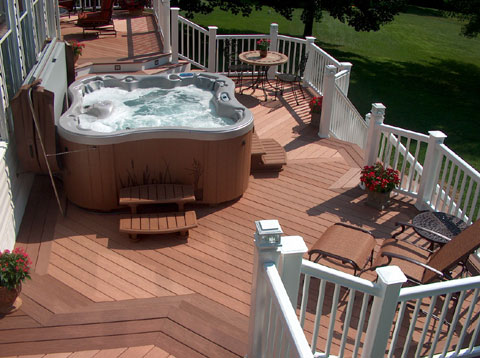 Fire-resistance rating values are essential if you build a deck made of wood or composite materials wherever you live.
But not essential.
Unless that is, if you live in California and you are using a composite decking board.
I am going to discuss these two types of materials; wood - a natural material and composite - a synthetic product and how they stack up when it comes to fire. 
Is There A Fire Resistant Wood?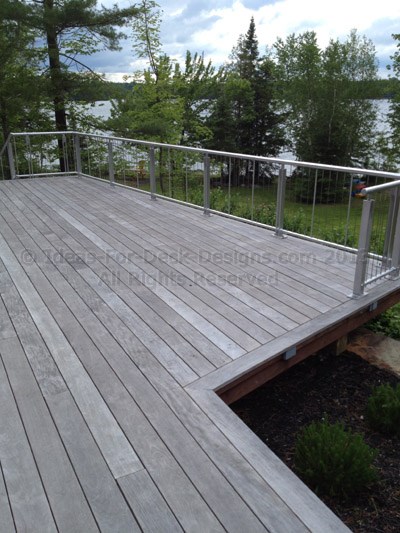 The only wood that really can handle fire to any significant degree is Ipe.
If you are not already familiar with this material, it is an exotic hardwood from South America, and it is one of the hardest, toughest, most insect and rot-resistant wood on earth.
You may also hear of claims about it having the same fire class rating as concrete.
I am not going to get into the nature of the test that these claims originated from because it gets a bit technical, and it just clouds the discussion.
Just remember that Ipe is very tough to burn. No other natural deck material I can think of is as fire-resistant.
I won't say fireproof, but definitely fire resistant.
California And Composite Decking
For the rest of the country, having a fire-resistant deck material is nice and always a good idea but not essential.
However, in California, composite materials must have certain minimum fire ratings.
That part of the country is in a very high-risk fire zone. In the wintertime, thermal generated winds blow with ferocity from the cooler inland areas to the warmer air on the coast. Add to that tinder dry brush, uphill slopes which accelerate the speed of fire, lots of beautiful homes and you have a potential major disaster every year.
You can appreciate how important it is to use a known fire-rated material.
What You Need To Know
As of January 1, 2008, State Fire Marshal (SFM) standard 12 7A-4 was introduced to the California Building Code. It sets out some pretty high fire rating standards for all newly constructed decks.
What Is Required
A 40 minute time requirement.
The objective of creating fire rated composite decking standards is to try to ensure that a deck would still be intact and show no evidence of flaming or glowing 40 minutes after the burner used during the testing has been turned off. If the material passes this test, it is considered to be a fire-resistant deck material.
Besides, in some cases where the decking material has a Class C flame spread, the home walls must be of a higher burn rating standard. This would require using traditional heavy stucco or cementitious fiberboards.
So any new deck you build with composite deck boards would have to meet these standards in California.
Fire Rating
Since the regulations have been around for a while now, more materials have improved to meet this standard.
But some composite decking materials probably have not or may never be tested for this kind of application.
Most composite decking manufacturers have fire testing data, and its called a flame spread index from 0-200.
Zero is the best, 200 the worst. This standard for the flame spread is ASTM E84.
Class A has a rating of 0-25, Class B is between 26 and 75, and Class C is 76-200.
Composite materials are generally high in plastic, which has a high heat release rate. This means the intensity of the heat it gives off is high and more likely to ignite.
Manufacturers can reduce this by adding fire retardants, but they can only do so much, which can increase the cost of the product.
Suppose you want to get a material approved. In that case, you should contact the California State Fire Marshal and get a copy of standard 12 7A-4 and then hire an engineering firm to conduct the tests appropriately for review by the fire marshal.
Be Safe Rather Than Sorry
California has a lot of different code requirements
But when you see those wildfires on the news, you have to agree it makes sense in these high-risk areas.
For much of the rest of the country, it's lower risk. And hey, if you want to have a fire-resistant deck material that is natural, and you can afford it, take a good look at Ipe.
At least now you can say you are aware of the existence of fire rated composite decking and how to find out if new standards affect you.
Home  >  Deck Materials  >  Fire Resistant Deck Material