concrete foundation wall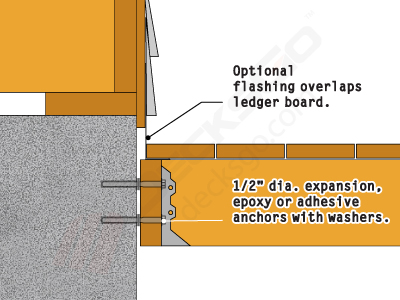 The fourth technique involves securing the ledger to a concrete foundation wall rather than to the first floor band board.  One of the benefits of this method is that more rigid minimum and maximum lag screw location configurations associated with mounting to band joists can be avoided.
Then the deck can be set as much as 7-3/4" below the top of the door sill.
This is very desirable in areas with snow or wet climates, as it provides an additional level of protection from water entering the home.
Either expansion bolts or epoxy can be used in this scenario. 
For a really durable job, consider applying 30# felt paper or metal flashing between the ledger and the concrete. 
If metal flashing is used, holes must be drilled through the metal prior to drilling out the concrete.  Although more work it is absolutely a bullet proof solution.