Hardwood decking next steps?
by Reuben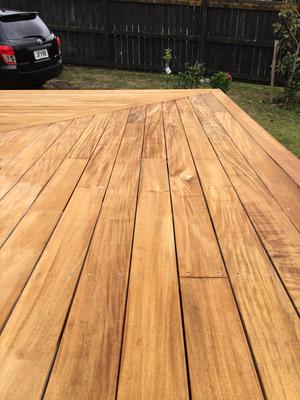 Eight months ago new decking was built with vitex hardwood and was never oiled. We have so far used a mould remover (sodium hypocloride) and a deck cleaner.

These were applied using a stiff brush and water blasted. The attached picture shows one coat of decking oil. I am concerned about the look - its like it needs some more cleaning or waterblasting or sanding before applying another coat?

What would you do next if this was your deck?

Editor's Comments
Well this is an interesting situation and Vitex is a species common to the south pacific, not North America. So I will preface my comments by saying that I am not familiar with this species. I can only speak a bit about some of the common issues we see here with other exotic hardwoods like Balau, Ipe, Cumaru, Tigerwood and those kinds of species.
Applying an oil is essential and the surface should be sanded with coarse paper. Not too coarse. But coarse enough to leave the cells open to absorb any oil.
If the boards are extremely smooth it becomes very difficult for the oil to penetrate and you would have to put on very very fine coats of oil. And if it does not absorb it never really dries. It just stays gooey. And it's a mess.
So there are a number of really professional decking finishers and I have read about many of them in California for example who specialize in this kind of work.
Cleaning the deck and getting the wood back to as close to original condition is critical. So it sounds like you did that part correctly.
It may well be that the water blasting left a much more coarse surface than necessary and once oil is applied it exposes the striations more so. But this is not easy to tell from a photograph.
However, do note that there is a fine line to using power washer properly on wood. The angle has to be not too close to perpendicular and the pressure should not be too high. There is a perfect zone.
Here is a good refresher article on the
basics of power washing a deck
So those are the two things I would consider - the state of the decking after the power wash and then the amount of oil applied afterwards.
I do hope some of our great visitors who are professional deck sealing guys see this post and have some helpful tips to offer.