Hardwood Wrench Board Straightener by Ipe Deck Clip Company
This is a beautiful finely made tool for a very specific task of straightening the toughest of wood boards found on the planet. Ipe is like concrete and this tool is designed for the strength required.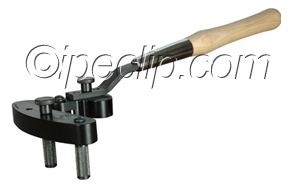 It needs open joists but can easily adapt to various sizes.
The joist pins come in a knurled or smooth variation for grip, so it doesn't mark up any joists that are intended to be visible after installation.
It can lock for hands free work and the cam is designed for very precise movements to get the board right.
You can use it to push or pull and straighten boards that are close to a wall.
No doubt that this is a high-quality tool and you get what you pay for. It's probably best suited for the professional who is doing a lot of work with hardwoods.
It's not designed to work with T&G boards or sheathing yet, but I think it could be adapted if necessary.
Overall it is a very specialized tool.  It comes with a higher price tag but it is exceptionally well made. If working with hard wood is common in your line of work, then this tool would be a great investment.
MSRP - $200
---
If you have a helpful tip you would like to share just contact us. If we publish it we will be sure to credit you and link back to your site.

This article is from the 2011 Spring issue of our Deck INSIDER newsletter. If you're interested in getting knowledge, tips, and tricks about all aspects of decks straight to your email, sign up below or click here to learn more.
Sign up for our newsletter here.