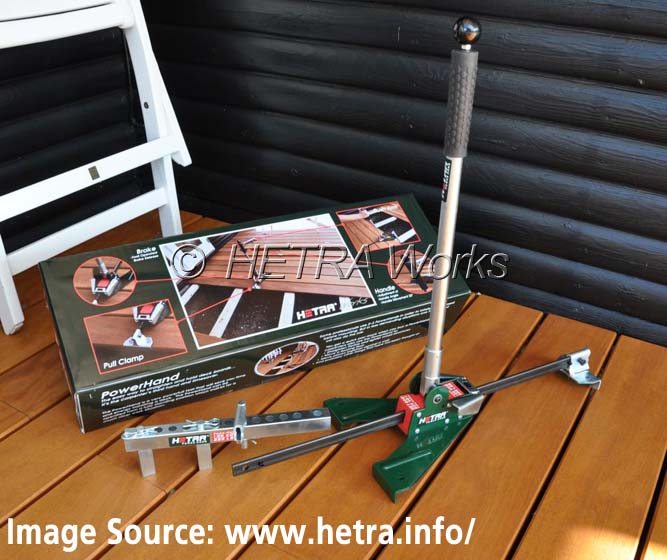 This is one of the higher quality tools I have seen.  A lot of thought when into developing this and I like it for several reasons.
First you don't need open joists to use it so it can push and pull from the top surface of boards, in against walls and other tight spaces. It has an adjustable joist gripper too so you can use it in unique situations.
I especially like the fact that it is designed to be used standing up. It's the only tool in this class that can say that.
It also has a lot of power up to 220 lbs. The ratchet system allows for easy hands free work. The bottom of it is padded so you don't scratch up the boards.
This is a top of the line tool. No doubt whatsoever.
The only negative I can say is, and it depends on your preferences, is that it's a bit bigger than the other simpler tools. But in return, you can use it in more applications.
It's a good value at $160 in terms of how well made it is. Take a good look at it to ensure you need everything it is capable of doing.
Recently however we have not been able to find Hetra on the web and so this product may no longer be available and we would suggest you try to contact the company directly to determine its local availability.
MSRP - $160
---
If you have a helpful tip you would like to share just contact us. If we publish it we will be sure to credit you and link back to your site.

This article is from the 2011 Spring issue of our Deck INSIDER newsletter. If you're interested in getting knowledge, tips, and tricks about all aspects of decks straight to your email, sign up below or click here to learn more.
Sign up for our newsletter here.