How to Hire a Builder - What to Know When Hiring a Contractor
So you want to hire a builder? Beware. There are many contractors who will tell you they can build your deck.
But there is a difference between a truly talented builder who also has an artistic design sense and can create something that compliments your home's architecture and someone who only knows how to frame. Big difference!
Professional Attitude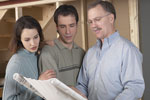 When you are considering to hire a builder, you should be looking for a perfectionist who cares about finishing carpentry.
Your deck will be a show piece for better or for worse. And either way it will cost thousands of dollars to build so get a finished product you are happy with.
Previous Jobs
Who would seriously hire a builder without a bit of a background check? Check out his photo gallery of actual jobs and ask to speak to a few customers.
This is the real proof. You want a contractor who loves to build beautiful structures and make his clients happy. If you don't sense that get someone else.
Check with the Better Business Bureau if you must. Although don't rely entirely on a nil repsonse as proof of competency.
Just how professional is this guy when he shows up at your house? How professional are his renderings and previous jobs?
Give The Builder a Good Idea of What You Want
Take your drawings you made during your pre-planning stage and explain what you are looking for. The more you can give him to work with the better the contractor can prepare the bid and give you what you are looking for.
Ask For Details
If you are serious to hire a builder than don't be duped by not getting reasonable details. A famous way for disreputable contractors to make extra money is to write contracts that lack details.
This way if there is a dispute mid-way through the contract you feel a lot of pressure to continue using the contractor and he can gouge you for the changes.
Cut him off at the pass. It's not hard. Just ask for the details of whatever it is you are looking for. Perhaps its the ledger board attachment or the railing detail. Any honest contractor who is appropriately skilled will do this for you - because they want to satisfy you and show off their craft.
Get Multiple Bids
This should go without saying but a contractor who knows he is in a competitive bidding process will be sure to give you a fair and reasonable price. Do not necessarily select the lowest bid. That person could be completely incompetent or they might be trying to low ball the bid to get the job and make it up with change orders later on.
As much as possible as each contractor to prepare his bid the same way so that you can compare apples to apples - not oranges to oranges.
Follow these steps and you will find the right builder for your deck project.