A three step process
Set one screw in the first hole to secure the anchor while pre-drilling the remaining holes. Drill 1/2" deeper than length of screw.

Position post and anchor for final attachment
Once the holes are drilled, remove the template anchor and position the post and anchor over the holes for final attachment.

Fasten concrete screws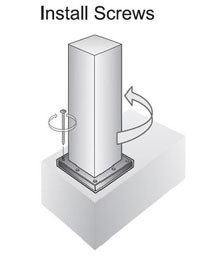 One concrete screw per corner is enough to keep the post and anchor secure given the pull out resistance of each screw.