Looking for ideas for our deck (from 2nd level)
by Danielle
(Halifax, NS, Canada)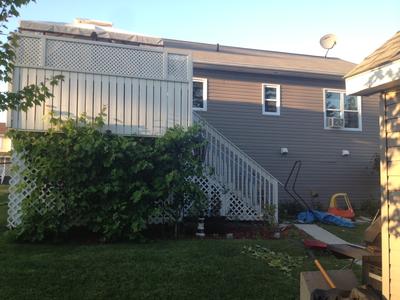 I am looking for some ideas for a deck coming off our kitchen of our split entry home.

Currently as you will see in the pictures we have just a square shaped deck (I`d say roughly 13x13) coming off the kitchen patio doors and a long set of stairs coming down.

Also, I am not sure what can be done but right now the deck is closed off to the backyard ... which I like but don`t like.

It`s nice having the privacy from neighbors but at the same time we can`t sit on the deck and look onto our backyard.

So I am interested in any suggestions that someone may have about changing the deck .... perhaps a multilevel deck to shorten the stairs up maybe.

If this helps at all, we would like a spot for the bbq gas grill as well as a place to hide from the sun/bugs.

We also have a large rectangular patio table and 6 chairs that we would need to account for.

If any other pictures are needed just let me know.