My Lil' DIY
by Connie Minniear
(Springfield, OH)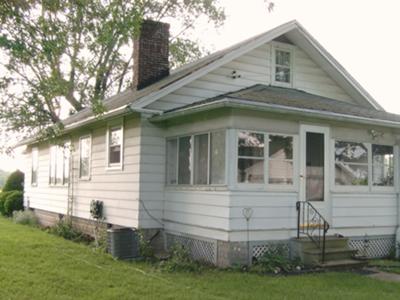 Before
Purchased a 1936 farmhouse in 1997. Been doing improvements every year. Finally it was time to take it outside. I wanted a 4 season porch and decided to add an outdoor room onto it and a place to relax when dining, hot tubing, or just having a glass of wine by the fireplace.

The project did take 2 summers to complete due to storm damages and a family members illness.

I wanted something unique in design and a way to get into my new hot tub without having to climb stairs and the appearance of being built in. So I came up with this design.

Since I did not have a lot of money to put into this, I constantly shopped only when items on sale and usually offered 1 - 2 year free interest. For windows I purchased 3 sliding patio doors and 2 French doors.

The fence posts are in sleeves so you just remove one panel & hot tub slides right out, which came in handy this spring after a February ice storm wiped out original arched fence, which is no longer made, and destroyed the hot tub & cover. The 3 boards in front of hot tub panel lift out for service access.

The neighbors thought I was putting in a dance floor at first until the next level and steps were put in...then it all finally came together. Then came the landscaping...my favorite thing to do!

I truly enjoy my outdoor space. Hope you do also.

Join in and write your own page! It's easy to do. How? Simply click here to return to Ground Level Deck Forum.