Our summer and winter getaway
by Shirlene
(Charlottetown,PE Canada)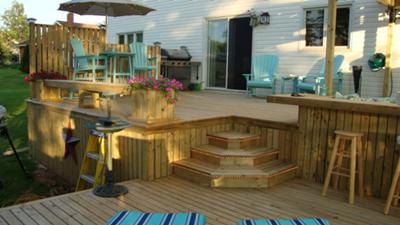 Part of deck
I decided to rip off the old small decaying deck and build a more roomy area for family fun. I designed the deck by drawing a plan, using 1 cm for one foot and went from there. I asked my brother law what he thought about building it for me. He agreed and we got started.

We worked together at it and had a blast. I have a whole new respect for construction workers and the job they do. We worked many long hours in the heat of the summer on this deck. It was certainly worth it and to see something I designed come together. It was exactly as I pictured in my mind. I am so very happy with it.

We did add more wood to the roof over the hot tub and on the bottom level we put in stones and a hammock, with another lounging area.