Our "Visit to the clouds" 5 terraced deck
by Gabriel Bourgeois
(Victoria, British Columbia, Canada)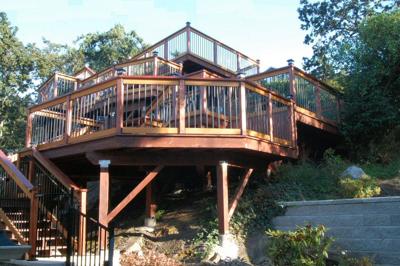 Vist to the clouds- 5 terraced deck
A little more than two years ago my wife and I bought our new home which was large enough for our large family of 8, yet boasted a back yard of solid bedrock that sloped upwards on about a 45-degree angle.

Wanting to make the best possible use of our city sized lot the concept of a terraced deck came to mind, and we embarked on a 2-year journey of evenings & weekends for a DIY project that tested my patience and challenged my tenacity.

Designing the deck proved to be the easiest part. Permit in hand, construction began, soon followed by a land surveyors location certificate and certificate of height compliance.

"Go big or go home" was the approach I took. After reading Scott Schuttner's Build Like A Pro- Building a Deck, I was ready to tackle the mount we had for a back yard. After hammer drilling out more than 40 footings into the bedrock (wearing out one BOSCH Hammer drill in the process) and, humping almost 100 X 50 lb bags of concrete up the rock face and mixing each pour by hand... the footings for the 5 terrace deck were ready.

Several large orders of custom milled cedar were necessary for this deck as well as two sets of placed rock and concrete stairs.

The entire framing and finishing construction is made of cedar with the exception of some specific finishing components.

The beauty of the deck and vision I had hoped for were achieved through the use of Titan Post Anchors (4 & 6 inch), Titan Post skirts, Railstrong Railing connectors, and 32-inch Dekorator Classic Balusters.

Using two different shades of Sikkens stain in combination with the black finishing railing components provides a striking visual contrast.

The final construction inspection was conducted just a few hours prior to this submission.

The feedback from neighbors, friends and family have been overwhelmingly positive and leaves us with a sense of confidence that this project was a success and will provide years of enjoyment and use.

Join in and write your own page! It's easy to do. How? Simply click here to return to Deck Building Forum.