OZ-Deck Footing System
Drive Spike with Load Distribution Plate into Ground
This is one way to build footings for your deck without the effort of digging holes and mixing cement.
The OZ-Deck is a ground anchored deck footing system that eliminates the need to use concrete footings for a floating or free standing-deck.
It Works Well
It's a very well-made product and it installs fast and easy, if you have access to a rented jack hammer or a sledge hammer to bang the post and spike into the ground.
I have used it and have seen first-hand how quick it is compared to digging, mixing and pouring cement.  The deck support posts are very stiff... it's impressive. The posts are strongly secured to the base.
You will also get a post connection to the footing that gives you pretty good lateral resistance. This means you might be able to build a deck that is a bit higher above the ground before you will notice the need to brace the posts and the joists.
Certainly, it's a stronger solution than a concrete block - but it is not as cheap. Still far less expensive than digging footings.
Free Standing Decks Only
Do not use this style of footing if your deck must be connected to the ledger. But thankfully the clear majority of decks do not need to be connected to the house.
OZ-Deck Foundation System
Quite simply, you drive the anchors into the ground with a jack or sledge hammer based on certain pre-determined spacing from each other and the size of the deck beams.
What makes it better than the concrete deck blocks you have probably seen is that there is a base that wraps around the anchor at ground level.
This spreads the load horizontally, so it can handle heavy forces. It's more stable than a deck block system because the anchors are so securely embedded into the soil.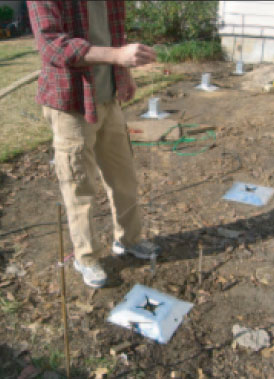 What are the Benefits?
You will save on time, labor, materials i.e. mixing cement, cleaning up and the foundation won't blow away in high winds.
I could see this being quite beneficial for builders in most areas of the country as well as home owners who want to build a deck without the back-breaking labor of digging holes and pouring cement.
If you think these kind of deck foundations could be the right option for you, then go to Ozco.
Don't Want To Use A Jack Hammer?
If you don't want to bother renting a jack hammer or it intimidates you then you can consider using the Titan Deck Foot Anchor.
This is a helical anchor system that also uses a load plate. But it drives in or out of the ground with ease using a lightweight hand held impact wrench and you don't have to worry about kick backs.
The Titan Deck Foot Anchor is simple to use for anyone of any skill. Learn more here!
Home  >  Building A Deck  >  OZ-Deck