Pergola construction on second story deck
Can I add a pergola to a second story deck?

Join in and write your own page! It's easy to do. How? Simply click here to return to Design and Construction Forum.
More Posts Needed For a Pergola?
by David
(Houston TX)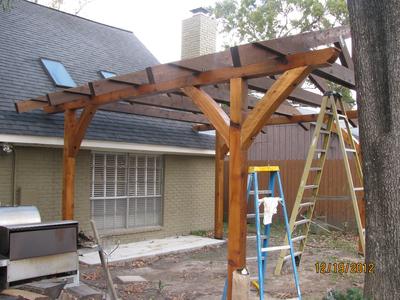 Closer View of Joists Over Beams
I am building a larger pergola and am wondering if more posts are needed for a pergola.

It is a post and beam structure with truss style roof frame. I am really second guessing myself. First of all I know I could have done this many different ways but this is where I'm at.

I'm wondering if I need to add another 6x6 cedar post under the middle joist. I'm afraid that 6x6x20 beam on top won't carry the load. I plan on adding 3/4 v groove pine and a painted copper metal roof. The span between the post is 12'8.

I'm thinking I should add a post on each side under the middle joist. I won't be center but then I could come from the middle of the joist to tie in for cross bracing. The joist are cedar also, but it is going to be a lot of weight. What do you think?
Join in and write your own page! It's easy to do. How? Simply click here to return to Design and Construction Forum.
A first time Pergola builder
by Barrett Chan
(San Francisco)
I currently have a 14' x 14' deck less than 2 feet off the ground. I want to build a 12' x 12' pergola on top of the deck and I want to anchor it to the deck by using the Titan Post Anchors.

I will position each post anchor directly above a concrete pier. Do you think this is structurally acceptable? Thanks in advance for any advise you may offer.
Building pergola on top of existing deck - best way to anchor posts?
by Wade
(NY)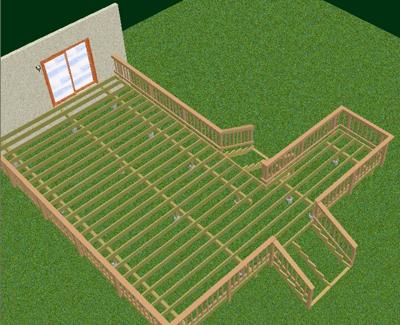 I have an existing deck (pictures of basic plan, construction and finished result attached) and was considering the addition of a 10'x12' or 10'x14' pergola on the far end to provide shade on that most sun-exposed portion of the deck.

I was considering standard PT 6"x6" posts being lag-bolted to joists and the bracing between joists below the deck surface - this is how our 4"x4" posts were installed for the railing.

I'm guessing that the posts will need to be at least 8' in length: about 1' would be bolted below the deck, which gives us 7' height for adding the pergola beams, etc. I was considering cedar for cladding the post and for the pergola top.

Essentially, I was wondering if my anchoring idea makes sense for these dimensions and installation location.

I was also curious if Titan Post Anchors might be appropriate for this application, because I'm not sure what those anchors would attach to below the deck surface for proper support.