Pergolas - Decks - A Perfect Marriage
Clients have often asked me to build them both a pergola and deck.
Usually, it starts with the deck and then they decide a pergola would be the perfect finishing touch to further enhance their backyard and provide some practical shade. 
What is a Pergola or an Arbor?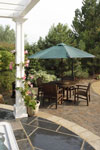 A pergola is a larger roof structure with open beams intended to provide shade commonly built over decks, patios and outdoor rooms.  They can be freestanding or attached to a house. 

Arbors, on the other hand are freestanding, smaller, structures often used to enhance gates and entrance ways to yards and gardens.  They can also create a small shelter for seating areas typically with vines and greenery growing up, over and through them. 

Arbors are like a mini version of a pergola but with a more specific purpose.  They are a beautiful enhancement for an entrance way as portrayed in the photo.  
If you are a beginner carpenter you shouldn't have much trouble building a pergola for your deck or an arbor. There are many "do it yourself" kits on the market now.  
And to make it really easy, I  recommend you browse through our library of FREE DECK PLANS to find one that includes a pergola design you admire.  https://plans.decksgo.com/
Tips on Building Pergolas For Decks
Pergolas in their simplest form are just like joists set at 12" or 16" spacing laid over top of beams. The ends of each beam and "joist" should be cut in some kind of decorative fashion as they will be the focal point of your backyard.
Pergoals Are Larger Than Arbors 
Pergolas are much bigger than arbors and therefore, the beams and the joists are visually dominant.  It is really important to use 6x6 posts over 4X4 posts in order to achieve a balanced, professional and aesthetically pleasing look.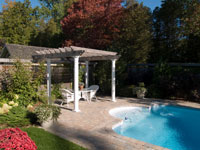 From a design perspective your posts can be either square or round, that will depend on your architectural preference.  It is the size of your posts that is very important and it is why I always suggest using larger more robust posts for pergolas.  Imagine the pergola structure in this photo with small thin posts.  It just wouldn't look balanced and the eye would detect the imperfection immediately. 
You can follow the same principles when building the roof structure for an arbor and because they are smaller structures you can certainly go lighter with the dimensions of the material.  

Build Your Own Pergola?
Why not!
If you have some basic carpentry skills you will certainly save a few bucks if you build it yourself.  Check out our library of FREE DECK PLANS and get going!   https://plans.decksgo.com/