Pergolas - Decks - A Perfect Marriage
Clients have often asked me to build pergolas and decks.
Usually its the deck first and then they decide that a pergola would be the perfect finishing touch to compliment their backyard.
What is a Pergola or an Arbor?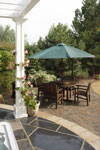 This is my interpretation... a pergola is more of a roof structure with open beams commonly found over decks and patios.
Vines and greenery may or may not grow over it.
Arbors on the other hand aren't much different except that I think of them as being used to enhance gates and entrance ways.

So they're like mini versions of pergolas but with a more specific purpose. Here is an arbor to show you the difference.
If you are beginner carpenter you shouldn't have much trouble building a pergola for your deck.
And to make it really easy, I recommend you take a look at these great affordable pergola plans from www.Pergola-Plans.com
Tips on Building Pergolas For Decks
Pergolas in their simplest form are just like joists set at 12" or 16" spacings laid over top of beams. Of course the ends of each beam and "joist" should be cut in some kind of decorative fashion as they will be the focal point of your backyard.
Pergoals Are Larger Than Arbors 
Pergolas are bigger than arbors. Much bigger and the beams and joists are visually dominant. The structure would look top heavy if it was sitting on 4x4 posts. So you really should be using 6x6 posts that are larger to get the right look.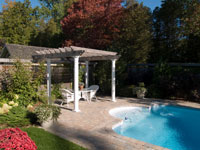 From a design perspective I always like to suggest that posts be fairly large and robust looking. They can be square or round depending on your architectural preference but size is important.
The posts which support the beams can be cylindrical pillars as shown in the pergola structure below. Imagine this structure with smaller posts. It just wouldn't look balanced.
Arbors are perfect for an entrance way into your backyard. Follow the same principles for the roof structure but you can go lighter with the dimensions of the material - if you desire.
Build Your Own Pergola?
Why not!
If you have some basic carpentry skills you will save a few bucks for sure. I recommend you check out Pergola-Plans.com for really affordable proven plans that will help every step of the way.
To check out all the pergola plans available just Click Here!
Where Can You Get Pergolas and Arbors For Your Deck?
I refer my visitors who are interested in learning more about the different pergola structures to enhance decks and who don't want to build themselves to one of the very best online retailers in the business, Garden.com
They have a huge selection of different pergolas for different budgets and different needs. These products aren't often carried in the big box stores, and certainly not to the variety you will find Garden.com
Also, they just have a super inventory of a million different things for your backyard. At the very least, you'll have a blast exploring!