Post Anchors For Supporting Compression Loads
Every Deck Rests On Post Anchors That Are Connected To A Foundation
And because of that it is very important that a structural connector is firmly anchored to a concrete pier or foundation.
The most common types of anchors for supporting compression or resisting tension loads are simple and stamped or formed from sheet metal.
Good corrosion resistant coating is important is you are using ACQ lumber or if the air is moisture laden so that rust is kept at bay.
This is 4x4 post base shown here is made by Simpson and it uses a patented folding technique. But USP makes similarly great products also.
You won't go wrong with either manufacturer.
There are two general styles of devices to choose from.
Functional And Anchored Into Wet Cement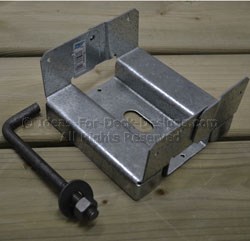 The most affordable option...
Here is the work horse product in this category. This is a 6x6 post base with J bolt that is set into wet cement and allowed to cure.
The base is secured to the bolt with a washer and then its on there for good.
The base forms into a 1" high "stand off" which is consistent with the code which states that if the end of a post bottom is not treated with preservative, it must be elevated 1" above an outdoor concrete surface.
This 6x6 anchor is sold separately so you will need a J-bolt, nut and washer and at least 6 wood screws.
It's quick and easy to install.
But not necessarily the best appearance.
You might wish to build some kind of decorative trim around them to cover up the bracket if the are going to be visible.
Approximate Cost: $21 based on 6x6 post size
6x6 bracket - $17, J-Bolt, washer, nut - $3, Screws - $1

Or Improved Appearance, Fastened to Concrete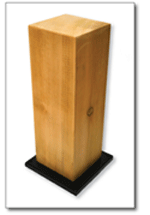 Get Rid of The Side Brackets
Here is a surface mounted post anchor that is principally designed for residential guardrail applications with approved engineering behind it.
Rather than metal flanges strapped to the outside of the post, a sharp edged hollow tube is impaled into the center of the post with some lag bolts along side.
It's all hidden inside the post.
People have started using this as a support post base where the top of the post is secured to a roof or balcony above. The compression and uplift ratings were excellent.
6600 lbs - minimum vertical tension or uplift
23000 lbs - minimum compression to start base deformation
Learn more about this option or Find Titan Post Anchor retailers
A Real World Example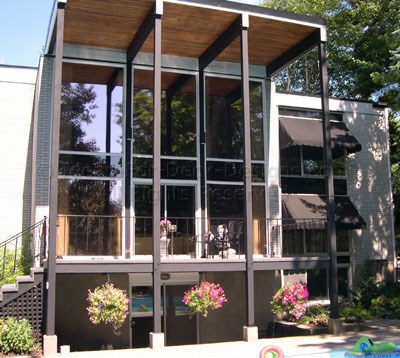 So it didn't take long for builder's to start responding to the demands of their customers.
Here is one project where this type of post base, the Titan Post Anchor, was used to support 25' 6x6 columns and a roof above it.
The only time a joist hanger is not essential is when the joists sit on top of a supporting beam at both ends.
You can see in a job like this why a homeowner would insist on a very strong but very clean good looking base connection for these huge support posts.
Apply Preservative To Post Bottom
The only thing you have to do with this kind of an anchor is put a wood preservative on the cut post bottom. This is because the base is less than 1" high at only 5/8". Then everything is code compliant.
This anchor was first attached to the post and then set onto the cured concrete pier and secured with four concrete fasteners.
To be fair, it doesn't matter on some jobs if the visual appearance is not the highest. So why spend the money if you don't have to.
However, the cost difference is surprisingly close.
Approximate Cost: $21-$23 based on 6x6 post size
All fasteners included
Use Any Of These Connectors And Be Secure
Either of these style of post anchors will do the job.

You have a couple choices to serve you best, be it cost or appearance. Your job and your customer will dicate what is right for you.