Privacy Screens -How High Can I Go With Titan Wood Post Anchor?
by Max
(USA )
I am looking to install privacy screens on my concrete patio. I just want to put up two 6x6 posts with Titan Wood Post Anchors, either 35" or 70" apart, and then fix a framed trellis screen or horizontal fence panel between the posts. Ideally this would be 6' tall. Will this structure stay up fine ? It's not a guardrail and won't have people leaning on it.

I also have some limited options for bracing the posts in the other direction against a fence about 3" away.

Any thoughts? Don't want to put up a post that will fall down. Thank you.

Editor's Comments
The 4x4 and 6x6 post anchors are designed for residential guard rail applications and a lot of engineering testing has been done to give reliable guideance about its range of use.
Once you extend the posts beyond 42" the structure will not longer be compliant as a guardrail - at least based on how we recommend you build it. However, if the deck is less than 30" above grade, the building code standards for a guardrail do not apply.
But I can tell you that a 4x4 post anchor should not really be used for much more than about a 48" privacy panel and more than 48" from post to post.. The 6x6 post anchor can be used for privacy panels between 60" and 72" with posts spaced about 72" apart maximum. It will function fine for this range but it will not meet residential code standards at those heights if it is a guard rail. So keep that in mind.
However, if you really want the best solution for what you are doing I would highly recommend the new Titan Evolution Structural Wood Post Anchor which has been tested as a standalone 4x4 post at 42" and has acheived loads up to 640#. And the post anchor is completely concealed AND it is surface mounted.
Privacy Panel By DIYer in Los Angeles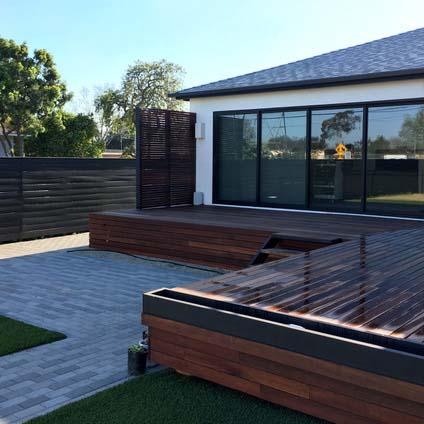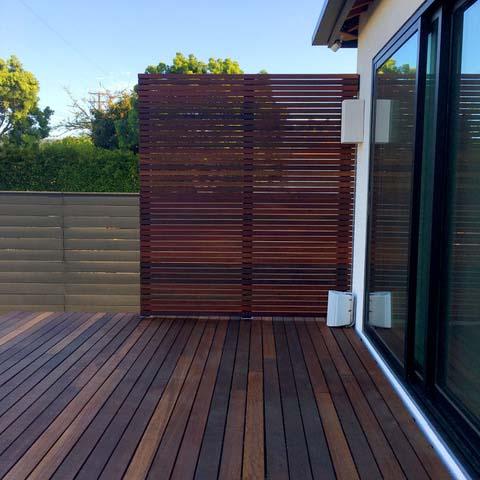 The Evolution structural wood post anchor is the smallest yet strongest surface mount post anchor you will find. It was designed specifically for those applications that go beyond what the Proline Titan Wood Post Anchor does.
So these are your options. The ultimate solution is the structural post anchor if you want this to have maximum strength and visual appearance.
Check it out