Retrofitting Wood Railing With A Composite Drink Rail and Aluminum Balusters
by John
(Jonesboro, Arkansas)
I'm currently in the process of upgrading my existing deck. It has 8 foot rail sections with 4x4 posts on each end. In the middle it has 2x4s with wooden spindles. Across the top of the rail is a wooden hand rail or cap rail which consists of 5/4 boards laid flat.

I am changing over to black aluminum balusters and getting rid of the 5/4 board because they are always going to warp. I would like to have a composite handrail the width of my 4x4 post to go over the entire rail.

Could you point me in the right direction for where to find composite that would screw down over the 2x4s and over the 4x4 to create a durable, warp proof, and smooth hand rail?

Ideally I would like the top composite to be black to match the black aluminum balusters. This would create contrast with the black and my stained lumber.


Editor's Comments
What you are referring to is what we now often call a drink rail today. The idea being that the top of the rail is flat and wide enough to accommodate that nice tall glass of ice cold lemonade.
The truth is this is nothing new. I built these on my first decks decades ago. But everything old becomes new again. So today what we are seeing which is quite nice are the new capped stock composite boards being installed over the upper horizontal rail.
Some attachment methods are as simple as screwing top down through the board into the rail below. Depending on the material of the underlying railing, fasteners may vary.
Some manufacturer's of aluminum railings offer an extrusion clip that fits and screws to the upper rail profile while providing a flat surface to screw through upwards and into the underside of the composite board. It is a nice touch.
However you are looking for a black composite board and I must say I have never seen one. You might be able to find one of the darker boards that is intended to look like some of the exotic hardwood boards. Otherwise you would have to use some kind of very durable paint to coat a board.
Or maybe you will find one of the varied colored boards and just get one that contrasts nicely with your black aluminum balusters. Either way the upgrade to your deck will be nice. A composite deck board for a drink rail is a fine way to maximize the enjoyment out of your deck. Let us know how it goes.
Attaching Composite Drink Rail
Here is one example of how you might consider attaching a composite drink rail to your existing railing. This illustration presumes you are adding it on to a wood framed railing and we are using top down face mounted composite decking screws and plugs to conceal the screws.
Cross Sectional View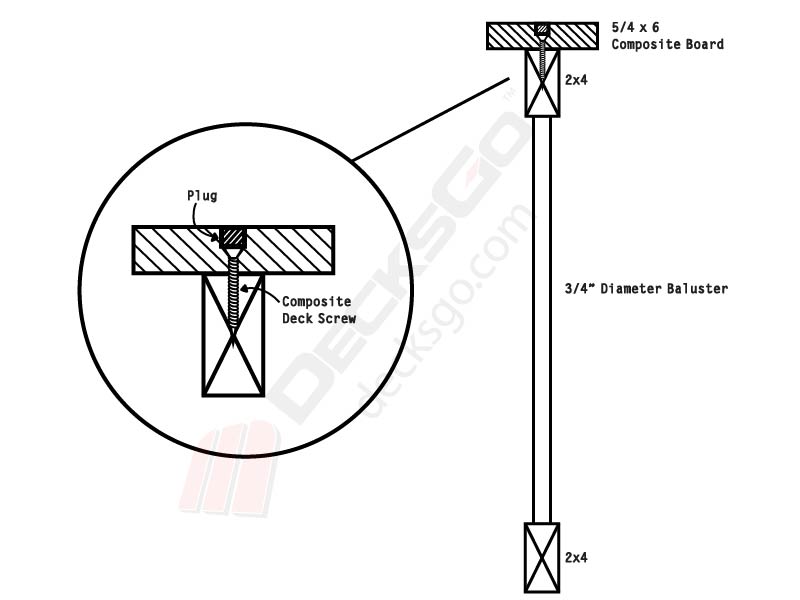 Perspective View Showing Screw Pattern