Should I Build a Low Level Deck Over an Existing Concrete Slab or Install Paver Stones?
by Corey
(Escondido, CA)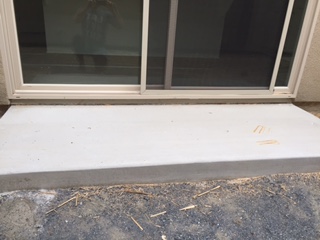 Concrete Patio Slab and Threshold Elevation Closeup
I want to build a ground level deck in my backyard to cover an existing concrete patio slab that is 3x8 and 5" thick.

I am having trouble figuring out how to cover the patio slab since I only have 2-½" from the slab to the bottom of the threshold. I attached pictures to give you a better idea of what my current patio and the space restrictions look like.

I want to build a floating 18x11 deck that is not connected to the ledger.

I live in Southern California so I don't have to worry about placing the footing below the frost lines or anything like that.


Editor's Comments
The dimensions you described makes building a floating deck very challenging.

My question then is do you prefer to have a wood deck? Or have you thought about using paver stones?

Due to your space restrictions I think it would be easiest to use paver stones. But, if you wish to use wood or composite, it is also possible. Each approach is described below to help you decide what is best for your space.


Building a Wood or Composite Deck
If you choose to build a wood or composite deck you will need to remove the concrete slab patio with a jack hammer.
Why Remove the Concrete Slab?
Building on top of the concrete slab patio is not a good idea for a few reasons.
First, laying deck boards on top of the existing patio without any joists to secure it from below will be free to move, twist, or just feel bouncy as you walk on it. Those little 3/16" gaps you have planned between each board may quickly disappear as the boards are free to move as they wish.
Second, if you ever have any rain (not much I know in Southern California) or moisture it will sit there under the boards and it will cause problems. The wood boards might be susceptible to warping or rotting because of moisture underneath.
Bottom line, laying deck boards on top of your existing patio is not functional and is not a good idea. The clearance is far too low to have any kind of joist material below the decking boards. This means you will be laying decking boards literally on top of the concrete pad, resulting in potential problems.
If you remove the existing patio or concrete slab, you will have an added 5" to build your deck! The added 5" makes building a wood deck possible - if you do it right along with a little bit of additional work. But first let's discuss each of the possible building options.
There are three common foundations if you choose to build a wooden deck. You could use deck blocks, traditional concrete footings, or the Titan Deck Foot Anchor™. For your convenience, each approach is described below.
Using the Deck Block
One option is to use a deck block for the foundation of your deck. While this is the cheapest option, it is not ideal.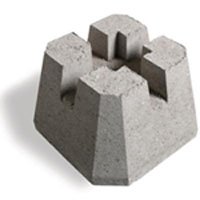 You will have to use quite a few of the blocks given their base size (generally less than 1 sqft). They also do not have grooves large enough to rest a double 2x8 or 2x6 beam. This means you will likely have to set a 4x4 post in them and then attach a beam over top of the post. All of this will increase the elevation, something you cannot afford with your space restrictions.
If you use deck blocks to support 2x6 joists at various locations, you have to have the elevations just right or the joist will rest on the highest deck block and not the others. Or if your deck blocks are too low the joist will be suspended and over a longer distance. This can result in a bouncy sensation as you walk on it.
All of this means a lot of finicky and time consuming work plus a loss of precious elevation for your specific challenge.
Using Traditional Concrete Footing
The traditional concrete footing approach requires more work than using deck blocks, but it is also a lot more secure.
You will have to dig a minimum of 12" below grade as required by the IRC for concrete footings. You can use a true footing with a pier and then pour cement and set a saddle bracket on the top.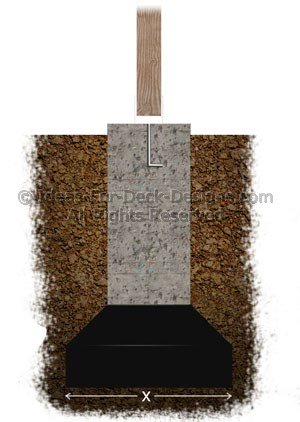 In areas prone to frost you would have to have the underside of the footing below the frost line. One of the good things about this approach is that it is possible to build a very large footing so that each footing can carry more weight, potentially using fewer footings.
With this approach you only have 7-½" of room to play with so you would have to remove some of the grade to give you a bit more room. You might need to remove 2" to 3" to have the extra room.
This leads us to consider another building product solution that offers some convenience and time saving but similar performance to a concrete footing.
Using the Titan Deck Foot Anchor™
The Titan Deck Foot Anchor™ could possibly be the best approach for building a low-level deck with your space and height restriction. It is the lowest ground anchor system on the market--a secure system for decks as low as 2".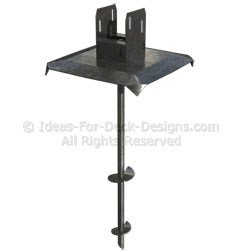 You would also have to remove some of the grade to use this solution. However, the saddle of the deck foot is only 2" above grade and this saves you some extra height. If you use a 5-½" joist and a 5/4" deck board and you hang the joists off the side of the beam, the total height you will use up is only 8-¾".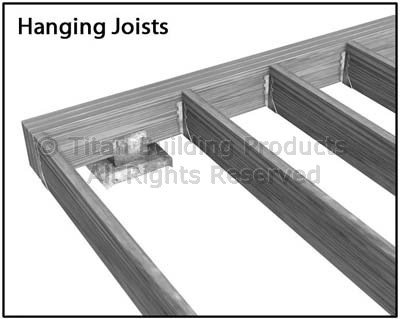 But the biggest benefit is no digging, no mixing cement, and no waiting for it to cure. Essentially the deck foot anchor offers no mess, no sweat and no problems.
For common soil types that can support 1800 psf or more you can set the deck foot anchor at 6' spacing from center to center. This coincides with the IRC stipulation that a floor deck be designed to support at least 50 psf. If each footing which is one square foot, supports and area above it that is 6'x6' or 36 sqft, we know that we must take into account the possibility that at least 50 psf will be imposed on the deck floor. This translates to 36x50 psf or 1800 psf that the soil must bear. So, that is why we would recommend a footing spacing of 6' apart, center to center.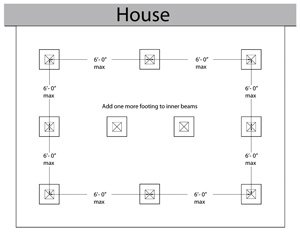 Is the soil near your foundation settled?
This is something to consider regardless of the footing methods discussed. The soil that has been back filled against the foundation of your house takes some time to settle again.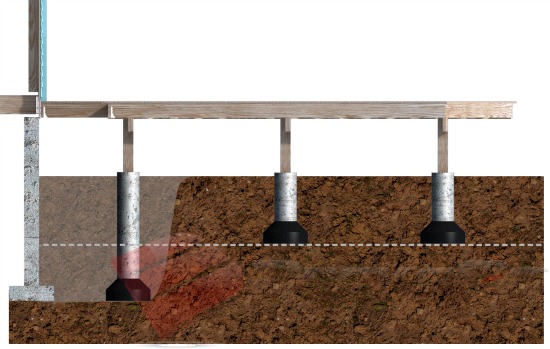 This can take up to three years but possibly more in some circumstances. So, if the soil is still considered disturbed (another term commonly used to describe back filled soil) you would have to dig down to the same level as the footings supporting your foundation walls in order to reach the truly undisturbed soil. A very big job indeed.
But assuming your soil is now settled you can be pretty safe in surface resting a light structure like a deck on it. In a worst-case scenario and the deck descended 1" or 2" you would have to remove some deck boards and shim under the beam to re-establish the correct elevation.
As you can see, with your space restrictions building a wood or composite deck requires some work and in every case should include removing the existing concrete slab patio. So, if you are not set on this type of deck, there are other options like an interlocking stone paver patio which is easier to address your height restrictions but still requires excavation.
Building a Paver Stone Patio
One approach is to get rid of the concrete patio slab and replace it with interlocking paver stones.
To do this, you would need to break apart the existing concrete slab with a jack hammer. Once you have removed all the concrete pieces you would need to prepare the soil for the paver stones.
Preparing the soil for the paver stones is a fairly labor intensive process. You will need to excavate approximately 12" below grade and replace the soil with 8" to 9" of 1" or ¾" stone and the rest with stone dust (approximately 3"-4" deep). Then you can place the interlocking paver stones on top of the stone filled area.
There are many great options for interlocking paver stones that would enhance the esthetic value of your backyard without the added hassle of building a wood deck. Stone decks are more expensive but they are virtually maintenance free.
So, it sounds like you have some decisions to make. Hopefully we have helped shed a little light on this problem for you and other visitors as well.
Did you find this article helpful? We'd love to hear about it! Share on your preferred social media platform on the left.
More Information: