Solar Deck Lighting - Illumination By Nature
Who can say no to free solar power? That is what you get with solar deck lighting.
And the options are growing every day. We offer a wide selection at the DecksGo store.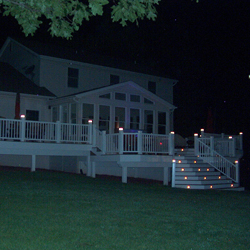 Using the energy of the sun is a great way to light your outdoor living space. Solar powered lights offer dual purposes.
It not only adds charm and safety to your outdoor living space but can also help you live a greener life.
These lights can be added to post caps, stairs, ground level patios, walkways and around pools.
It's convenient because it turns on and off when you want it to and it makes your backyard a little safer as well.
And at up to ten hours of life, that's more than enough lighting for an evening.
How Do They Work?
The beauty of the advanced photo cell.
Each light is independent and powered by a photo cell either on the top of the light, such as a post cap. Post caps are perfect for solar because the cell fits nicely on top and is directly exposed all day long.
The most convenient aspect of today's solar lights and post caps particularly is that the cell sits right on the light fixture itself and is all you need for power.  No wires are required.  This is a big bonus for homeowners as it immediately simplifies the entire installation process. 
In addition today's solar lights use LEDs which can be customized for the range and tone of the light.  No longer do you have to accept an LED with a piercing cold blue white light.  You can get lights with a beautiful warm glow that perfectly mimics a traditional incandescent light.
check out the selection at our store

There are lots of different styles of post cap lights and even solar lights that mount on to the side of posts.