Solar Deck Lighting - Illumination By Nature
Who can say no to free solar power? That is what you get with solar deck lighting.
And the options are growing every day.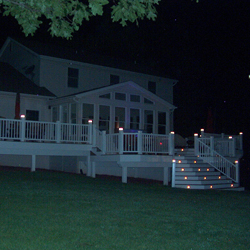 Using the energy of the sun is a great way to light your outdoor living space. Solar powered lights offer dual purposes.
It not only adds charm and safety to your outdoor living space but can also help you live a greener life.
These lights can be added to post caps, stairs, ground level patios, walkways and around pools.
It's convenient because it turns on and off when you want it to and it makes your backyard a little safer as well.
And at up to ten hours of life, that's more than enough lighting for an evening.
How Do They Work?
The beauty of the advanced photo cell.
Each light is independent and powered by a photo cell either on the top of the light, such as a post cap. Post caps are perfect for solar because the cell fits nicely on top and is directly exposed all day long.
Some systems can have a photo cell that you located remotely from where the lights are, preferably in an area with maximum sun exposture.
Then a wire runs back to the lights.
One of the top manufacturers you may wish to consider is Aurora Deck Lighting.
Looking For Solar Lighting Stores?

Solar deck lights are a super investment and a great add-on accessory for any deck.
One place you may not have thought of to search for them is eBay. Yes, eBay.
It's unbelievable what is for sale there and at great prices.
You can find lighting that is used or brand new! Many merchants sell their overstock items on eBay just to move their product lines through another distribution channel.
Solar Lighting for Decks Right Now on eBay
Customize Your Search Terms
If you still haven't found what you were looking for try a custom search using your own terms in the search field at the top.
Become an Enlightened Deck Owner
And make the night as beautiful as the day on your outdoor living space.