Option 1: Remove Existing Treads And Replace
No secret here. Lots of finicky hard work required to remove each stair tread and replace.

You will have to remove screws in the treads - if you used screws. Or if you used nails to secure the boards, a hammer from underneath or a pry bar are your only options.
Try to remove each step carefully without damaging stringers or the kick plate. Examine the condition of the stair stringers and if they are not rotted then replace each tread with new boards.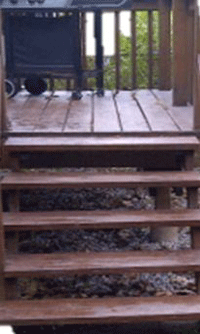 Option 2: Sand And Resurface
If the wood wear is superficial and no rot is present, sanding and refinishing the surface could do the trick.

This is the most common way of reviving a worn set of stair treads. But while you are at it you might want to consider adding a textured finish to the treads. This makes the tread safer. There is no easy way to do this.
There are grip tape products with adhesive backing similar to what you might see on skateboard but they only adhere well to smooth sealed surfaces in order to have any chance of lasting.
Another possibility would be to use some epoxy or polyurethane resin mixed with some grit. These kinds of materials can all be purchased in a local specialty plastics shop.
Epoxies have trouble with sun and tend to discolor and break down quickly unless they have the right UV protectors in them. Non epoxy resins don't have this problem.
But really what you are doing here is a lot work. It's messy and quite a hassle when all that is really needed is some kind of outdoor stair tread cover that fit over the treads.