Titan anchor 6x6 post to top of 3ft stone column for pergola
by Tim
(Houston)
I am building a pergola.

My question is can I use Titan anchors to attach 6x6 cedar posts (4 pergola posts) to the top of stone columns?

I would plan on building the stone columns then using adhesive to secure caps to the top of columns, then use anchors to attach post to the column caps. Would this application be sturdy? 3 ft stone column with 6 ft posts freestanding pergola.


---
Editor's Comments
The use of the 6x6 post anchor for pergola posts whether they be secured to the deck or patio surface or on top of capped columns is a very common use. And the post anchor excels at that.
Here is a great case study of a beautiful pergola with the posts secured to the caps of some 36" masonry columns built by Macek Builders in Ohio.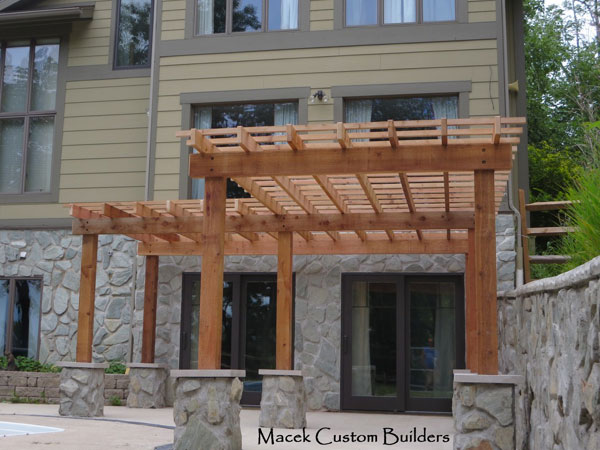 One other point to mention is that the strength or resistance to lateral sway at the top of a pergola post will come largely from the rigidity of the geometric shape of the structure including the criss-cross arrangement of the roof joists/members. That is usually more than enough to create a rock solid structure.
Although some people incorporate triangular post to beam bracing but that is more because of an aesthetic design preference than a necessary structural requirement.