Huge Covered Deck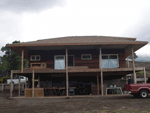 As you can see the deck or balcony goes around almost the entire home.
The roof line is a low slope but extends all the way over the deck to keep it dry from the rains that often come on this part of Mount Haleakala - a dormant - for now anyways - 10,000' volcano.
There is a lot of railing to be installed on this home and it was only just starting when I arrived.